Posted on
Cowgirls Take Third Place At Richey/Lambert Invite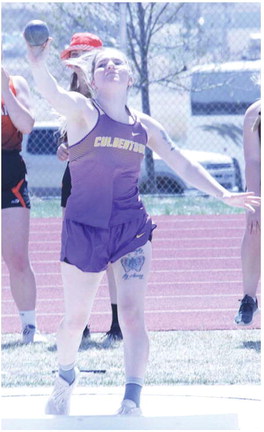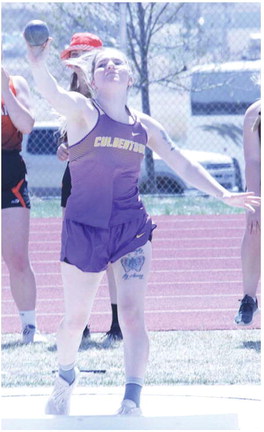 The Culbertson Cowgirls accounted for 65 points for third-place honors at the Richey/Lambert track invitational held in Lambert on Friday, April 30.
Circle took first with 97 points while Plentywood placed second with 70 points.
The top three teams in the boys' division were Plentywood with 121, Circle with 76 and Fairview with 75.5. Culbertson took eighth with 16 points.
Abbey Granbois cleared 5-2 for first place in the high jump to lead the Cowgirls. Megan Granbois cleared 4-8 for third and Makena Hauge cleared 4-6 for fifth place.
Culbertson's girls' 400-meter relay team featuring Autumn Bergum, Hauge, M. Granbois and A. Granbois finished first with a time of 55.43 seconds.
The 1600-meter relay team consisting of Kayli Olson, M. Granbois, Bergum and A. Granbois took third in 5:03.36.
Olson earned second in the 3200 with a time of 14:51.78.
Bergum took second in the triple jump at 30-4.
Placing in the long jump for the Cowgirls were A. Granbois in third at 15-02 and Hauge in fourth at 14-11.
Kobe Nickoloff led the Cowboys with a best of 142-0 for third place in the javelin. The sophomore took sixth in the discus at 120-07.
Justice Bengochea earned fourth in the shot put at 41-04. James Kirkaldie ran the 1600 in 5:42.95 for sixth place.
The 1600-meter relay team featuring Wyatt Snyder, Colby
Olson, Kirkaldie and Payton Perkins finished fourth at 4:11.05. Culbertson will compete in Wolf Point on Friday, and in Glasgow on Saturday.