Posted on
Fans See Outstanding Rodeo Performances During Stampede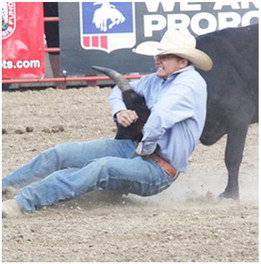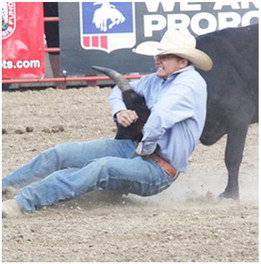 Rodeo fans were treated to three nights of great action during the Wolf Point Wild Horse Stampede on July 7-9.
Helena's Sam Petersen earned top honors in bareback riding with a score of 87.5. Kade Sonnier of Carencro, La., placed second with a score of 84.5. Tying for third at 84 were Stevensville's Richard Champion and Columbus' Weston Timberman.
Qwint Stroh of Glendive topped the field in saddle bronc riding with a score of 87. Deer Lodge's Chase Brooks took second at 85. Staler Ray Wright of Beaver, Utah, came away with third place at 84.5.
The bull riding title was captured by Jordan Hansen of Amisk, Alberta, with a mark of 88. Brady Portenier of Caldwell, Idaho, placed second at 87. Dustin Donovan Boquet claimed third at 86.5.
Miles City's Bryce Bott earned first place in tie down roping for the first go-round with a time of 9.9 seconds. Chantz Webster of Weatherford, Texas, took second at 10.2 seconds. Bozeman's Levi Travis Delamarter placed third at 12.4 seconds.
Garrett Jacobs of Bosque Farms, N.M., claimed top honors for tie down roping for the second go-round with a time of 10.3 seconds. David Trahan was second at 11.4 and Jesse Medearis of Belgrade placed third at 11.8.
Aggregate results for tie down roping had Miles City's Bryce Bott in the top spot with a score of 25.3/2. Delamarter placed second at 27,3/2. Tyler Popescul of Medicine Hat, Alberta, took third at 39.9/2.
Jaret Whitman of Belgrade earned first place in the first go-round for steer wrestling with a time of 4.7 seconds. Twin Bridges' Newt Novich placed second at 5.2 and Bozeman's Kyle Whitaker took third at 5.4.
For the second go-round in steer wrestling, Bryn Roy of Dalemead, Alberta, was the winner at 4.0. Novich earned second place at 5.3 and Quentin Wheeler of Baker took third at 5.5.
Aggregate results for steer wrestling included Whitman in first place at 10.3/2. Novich took second at 10.5/2 and Jake Nelson of Whitehall placed third at 13.7/2.
In team roping for the first go-round, Cameron Irwin of Buffalo, Wyo., and Coley Nicholls of Kinnear, Wyo., earned top honors at 4.8 seconds. Lightning Aguilera of Athens, Texas, and Jared Fillmore of Payson, Utah, placed second at 4.9. Clint Summers of Lake City, Fla., and Jake Long of Coffeyville, Kan., along with Coy Rahlmann of Ellsinore, Mo., and Jonathan Torres of Ocala, Fla., tied for third at 5.4.
In the second go, Gunner Q. Plenty of Gerryowen and Mason Trollinger of Powell, Wyo., along with Kolton Schmidt of Barrhead, Alberta, and Logan Perrin Spady of Alliance, Alberta, tied for first at 5.5. Placing third at 5.6 were Nelson Wyatt of Clanton, Ala., and Chase Tryan of Helena.
Rahlmann and Torres topped the aggregate results for team roping at 11.2/2. Schmidt and Spady placed second at 11.5/2. Taking third at 13.4/2 were Marty McPherson of Piedmont, S.D., and Luke Morast of Halliday, N.D.
Leslie Smalygo of Skiatook, Okla., rode to top honors in barrel racing with a time of 17.42 seconds. Cut Bank's Tia Murphy placed second at 17.52. Poplar's Heather Crowley earned third-place honors with a time of 17.66 seconds.
In ladies' breakaway, Teka Larson of Billings earned first place at 3.20. Joey Williams of Volberg placed second at 3.70 and Olivia Webster of Weatherford, Texas, took third at 3.90.