Posted on
Wolves Drop Title Game Against Malta, 61-57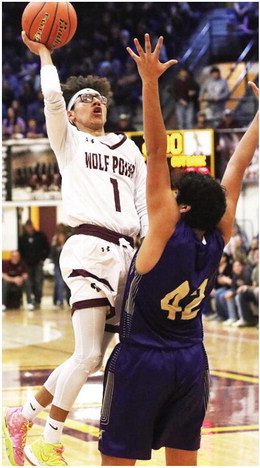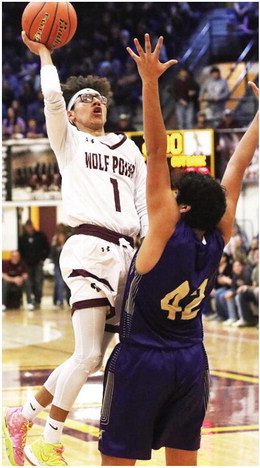 Basketball fans say it's tough to beat a team three times in a season. Wolf Point's boys' basketball squad attempted to defeat Malta for the fourth time this season in the Northern B divisional title contest on Saturday, March 4.
Despite gaining a lead in the first half, the Wolves fell to Malta by a 61-57 final.
Wolf Point held a 30-25 half-time margin, but a pair of free throws by Jared Eggebrecht put Malta up 37-36 with 2:15 remaining in the third quarter.
The Wolves struck back with a drive by Juliun Benson and a three-pointer by Kraven Silk. After Malta's Dawson Hammond hit two free throws, Wolf Point's Gaige Bushman connected from three-point range for a 44-39 lead to end the third quarter.
Malta accounted for the first nine points of the fourth quarter including five points during a 14-second span that featured two technical free throw shots.
The Wolves pulled to 48-46 on a basket by Cade Stafnee off a pass from Bushman with 6:11 left, but the Mustangs went on to earn a 55-48 lead.
A four-point play by Kelby Bauer kept Wolf Point's hopes alive at the 3:22 mark for a 55-52 game.
Down by a 59-53 margin, the Wolves scored on a free throw by Jack Kolstad with a minute to play. A three-pointer by Benson got the Wolves as close as 61-57 with five seconds remaining.
Top scorers for the Wolves were Benson with 17, Bushman with 15 and Silk with 10 points.
Also scoring were Bauer with six, Stafne with six, Lennoxx Lilley with two and Kolstad with one point.
Leading Malta were Bohdi Brenden with 14, Eli Hanson with 13, Treyton Wilke with 12 and Stockton Oxarart with 10 points.