Posted on
Wolf Point Beats Fairfield To Start Tourney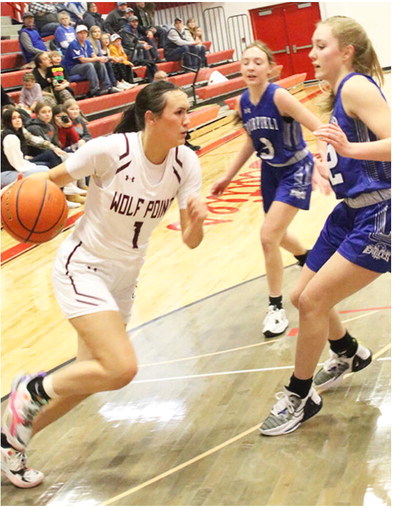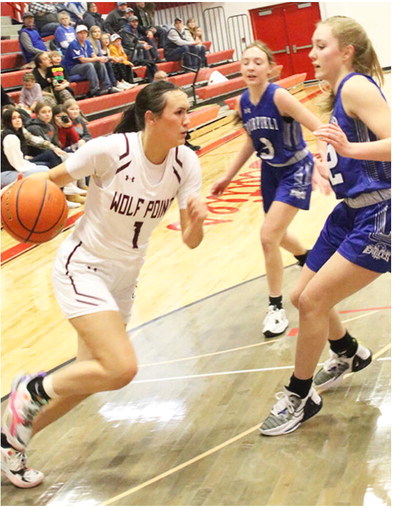 Wolf Point's girls' basketball team came back in the final minutes to edge Fairfield, 45-44, in the opening round of the Northern B divisional tournament on Thursday, Feb. 23.
"We made a couple of big plays on defense," Wolf Point Coach Frank Benson said of the comeback. "But Fairfield came to play."
Benson also said that an offensive adjustment pointed out by assistant coach Marianne Zilkoski-Rees helped the Wolves put a run together in the tight contest.
A three-pointer by Natalie Harrell put the Eagles ahead 44-39 with 3:21 left in the contest. After Wolf Point's J'Elle Garfield scored off a pass from Sierra Hamilton, Katelyn MacDonald accounted for a steal and layup to pull the Wolves to 44-43 at the 2:50 mark.
The Wolves grabbed a 45-44 lead on a pair of free throws by Hamilton with 1:27 remaining.
A steal by MacDonald ended Fairfield's next possession. Fairfield's final shot attempt missed with about three seconds left. Wolf Point's top scorers were Hamilton with 19, KJ St. Marks with nine and Garfield with eight points.
MacDonald, Keeley Blount-Henderson and Azalei Ackerman added three points each.
Leading Fairfield were Toryn Martinez with 15 and Harrell with 13 points.
A three-pointer by St. Marks put the Wolves up 11-6 early, but Fairfield fought back to 11-9 at the end of the opening quarter.
The Wolves gained a 2217 lead on a three-pointer by St. Marks and a hoop by Garfield in the second quarter, but the Eagles' Harrell scored the final five points of the half for a 22-22 deadlock.
Fairfield put together a 9-0 run in the third quarter to gain a 35-27 advantage. The Wolves trailed 39-33 at the end of the third period, but Wolf Point opened the fourth period on a 12-footer by Garfield and two free throws by Hamilton.