Posted on
Wolves Remain Undefeated With Win Over Harlem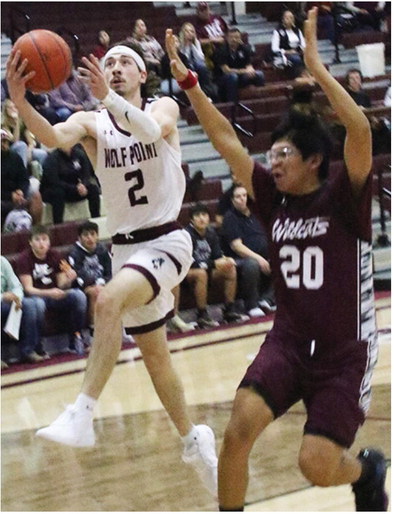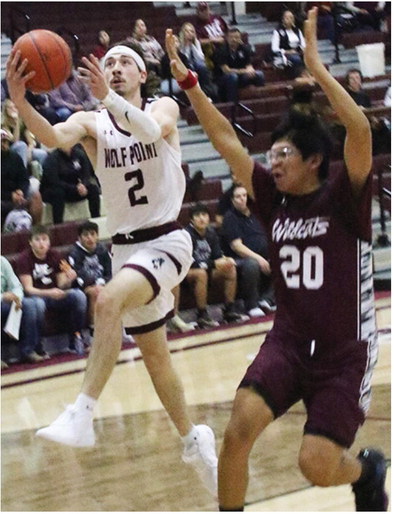 Wolf Point's full-court pressure led the Wolves to a 21-0 start in their 53-23 home boys' basketball victory over Harlem on Saturday, Jan. 7.
The Wolves accounted for 10 of those points during the first 1:09 of play in the conference contest.
"Our defense is pretty tough and is still improving," Wolf Point Coach Cole Hanks said. "We're still a work in progress in learning how to play while having success."
The victory was Wolf Point's second of the week by a huge margin.
"These boys are flying around and are fun to watch," Hanks said. "We will be having a target on our backs."
Juliun Benson accounted for the game's first eight points including two baskets after steals by Kelby Bauer. Kraven Silk scored on a steal and drive for a 10-0 at the 6:51 mark.
After a blocked shot by Benson, Gaige Bushman drove in for a hoop at the 5:08 mark. A layup by Silk and a free throw by Jack Kolstad put the margin at 15-0.
A three-point play by Benson and a three-point shot by Bauer increased the gap to 21-0 with 3:30 left in the opening quarter.
Baskets by Bushman and Peyton Summers put the score at 25-6 to end the quarter.
The Wolves then opened the second quarter with the first 19 points for a 44-6 command. Another three-pointer by Bauer and a layup by Bushman after a steal by Benson started the period.
After a fast-break basket by Silk, Bushman scored off a nifty behind-the-back pass from Benson at the 6:41 mark. Benson then connected on a three-pointer for a 37-6 advantage.
Two steals and baskets by Bauer put the score at 41-6. Bauer then fired in a three-pointer for a 44-6 lead.
Consecutive three-pointers by Benson and Bushman increased the margin to 50-9. The scoring of Bauer led the Wolves to a 58-11 lead at the half.
With a running clock, the second half was a fast one. The Wolves were ahead 66-17 at the end of the third quarter.
Wolf Point's top scorers were Bauer with 19, Benson with 17 and Bushman with 13 points. Also scoring were Silk with eight, Summers with eight, Cade Stafne with four, Mike Bell with four and Kolstad with two points.
Tommy Champagne Jr. scored 10 points for Harlem.
The Wolves will host Glendive on Thursday, Jan. 12, and travel to Scobey on Saturday, Jan. 14.