Posted on
Indians Earn Honors During Miles City Meet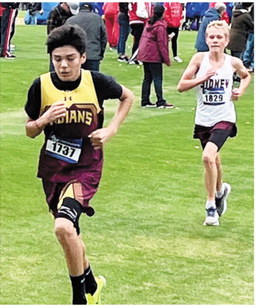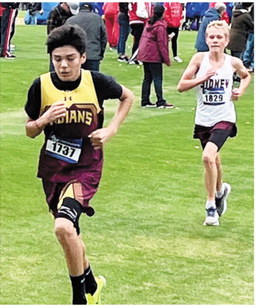 Poplar's girls placed eighth in the team standings at the Custer County Invitational in Miles City on Saturday Oct. 1.
The Indians finished with 197 points. The top three teams were Hardin with 38, Sheridan, Wyo., with 50 and Glasgow with 140 points.
Leading Poplar's girls was Reinita Irizarry with a time of 21:21.2 for 27th place.
Jazmyn Carrywater placed 29th at 21:52.5. Mattie Falls Down finished 31st at 22:21.7.
Blake Follette took 52nd place at 23:22.9. Caidryn Archambault earned 92nd place at 26:27.6.
Alara Parshall took 103rd at 28:55.1.
Poplar's boys earned 11th place in the team standings with 253 points. The top three teams were Sheridan with 39, Hardin with 93 and Laurel with 113 points.
Miles Boxer finished in 39th place at 18:24.8. Geordy Medicine Cloud placed 42nd at 18:36.8.
Kaniel Ricker earned 43rd place at 18:37.4. Navarjo Escarcega took 71st place at 19:40.4.
Wilder Bearcub took 78th at 19:56.2. Raylando Red Eagle was 87th at 20:13.3. Delray Lilley finished 108th at 21:23.8.
Brockton had seven girls compete at the meet. Lucille Hart placed 77th at 24:51.9.
Tamryn Bauer finished in 98th place at 27:46.1. Kaylay First That Walks placed 100th at 28:13.1.
Marlene Fish took 106th at 29:28.0. Hally Eder finished 111th at 31:36.1.
Taylor Cummins was 113th at 31:57.3. Isabella Apple placed 114th at 32:52.7.
Leading Brockton's boys was loshua Firemoon with a time of 20:37.6 for 94th place.
Ronnie Black Dog placed 122nd with a time of 23:33.6. Quannah First That Walks took 125th at 27:43.5. Teams will compete at the
Sidney Invitational on Saturday, Oct. 8.
Boxer
Poplar's Miles Boxer keeps up a good pace during the Custer County Invitational.
(Photo submitted)
Indians
Poplar's Georgy Medicine Cloud and Kaniel Ricker run in Miles City.
(Photo submitted)