Posted on
Lady Wolves Win First Home Match Of Season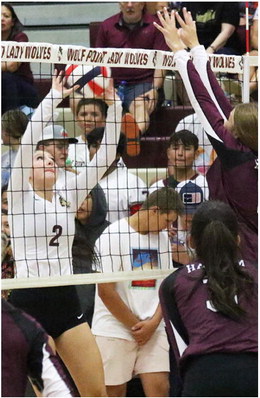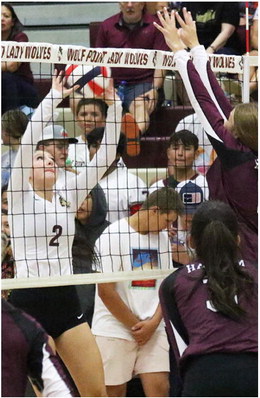 The Wolf Point Lady Wolves closed out each set in strong fashion as they downed Harlem, 25-20, 25-17, 25-22, in home volleyball action on Thursday, Sept. 1.
"Our communication was really good tonight," Wolf Point's coach Karli McGowan said after the league victory.
She feels the Lady Wolves need to continue improving on their defense.
"I felt like they were having fun, which is always good," McGowan said.
A kill by J'Elle Garfield and a great save by Katelyn MacDonald helped the Lady Wolves gain an early 8-4 advantage in the first set. The hard hitting of Garfield, Trinniti Garrett and Kylie Rodenberg led the way to a 13-8 lead.
The Wildcats battled back and tied the game at 18-18 on a kill by Ma'Lea Moore, but blocks by Garrett and Sierra Hamilton put Wolf Point back ahead, 22-20. Wolf Point scored the set's final point on an ace by Azalei Ackerman.
Kills by Hamilton and aces by MacDonald led the Wolves to a 17-14 lead in the second set. An ace by Jerzey Azure increased the gap to 18-14. The net play of Rodenberg put Wolf Point up by a 21-17 margin.
With the score at 23-17, the Wolves closed out the set on a tip by Hamilton and a kill by MacDonald.
The Lady Wolves trailed by a 16-15 margin in the third set until they struck for four straight points on an ace by Garfield, two spikes by Rodenberg and a tip by Garrett.
Hamilton and Kaleah Miller- Toves accounted for kills to increase the margin to 23-20.
The net play of Mylah Rider pulled Harlem to 23-22, but the Lady Wolves ended the match on a kill by Hamilton and a spike by Garfield.
Leading the Lady Wolves with seven kills each were Hamilton and Garfield. Mac-Donald finished with four aces and five kills.
Ackerman had 10 digs. Moran finished with 10 assists. Hamilton had two blocks.

RodenbergWolf Point's Kylie Rodenberg leaps to make a kill against the Harlem Wildcats. The Lady Wolves will compete ata tournament in Scobey on Saturday, Sept. 10.(Photo by Bill Vander Weele)