Posted on
Lustre Opens Season At Culbertson Invitational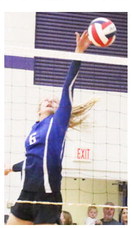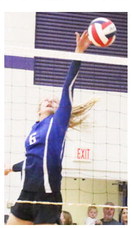 Lustre Christian's volleyball team opened its season facing stiff competition at the Culbertson Invitational on Saturday, Aug. 27.
The Lions faced Savage, Culbertson and Scobey during pool play action on Saturday morning. The Lions improved in each meet.
Lustre fell against Savage by a 25-7 margin. Savage jumped out to 13-1 and 15-2 advantages.
Kills by Alexa Reddig pulled the Lions to 19-5. A block by Aubri Holzrichter was a highlight for Lustre down the stretch.
Culbertson downed Lustre by a 25-16 final. The Lions kept the match close early on a block by Grace Brown and a kill by Reddig.
After Culbertson moved ahead 20-10 on the strong serving of Makena Hauge and Jazzmin Fugere, Lustre cut the margin to 20-12 on an ace by Holzrichter. Sarah Dahl served an ace for a 22-14 margin, but Culbertson won by the 25-16 margin.
The Lions lost against Scobey by a 25-17 margin. A kill by Holzrichter tied the match at 14-14. The Lions stayed close, 18-17, on a spike by Brown.
Scobey scored the last six points of the match.
In tournament action, Lustre fell against Froid/Lake by scores of 25-8, 25-14.
The Lions gained a 3-0 lead in the second game against Froid/Lake, but the Red Hawks went out to a 15-8 advantage.
A block by Reddig was a highlight as the Lions pulled to 15-13, but Froid/Lake then accounted for 10 of the last 11 points.

ReddigLustre's Alexa Reddig goes up for a spike during action in Culbertson on Saturday, Aug. 27.(Photo by Bill Vander Weele)