Posted on
Red Hawks Stay Undefeated With Tough Win Over Bainville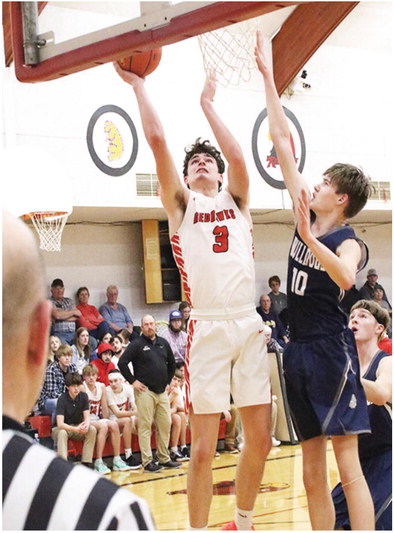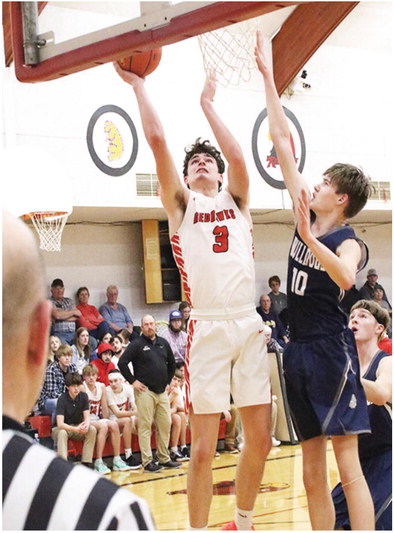 Froid/Lake's boys' basketball squad saved its best for the fourth quarter to win a hard-fought home contest against Bainville, 66-47, on Thursday, Jan. 13.
The undefeated Red Hawks were up 46-38 after three quarters of play and that margin was cut to 46-40 when Bainville's Jesse Strickland drove in for a basket to open the fourth period.
The Red Hawks responded to the challenge by scoring the contest's next 10 points to take a 56-40 advantage. Three hoops by Javonne Nesbit, a tip-in by Mason Dethman and a pair of free throws by Brett Stentoft highlighted the streak.
After Bainville's Ayden Knudsen connected on a three-pointer with 3:13 remaining and J. Strickland scored on a drive for a 58-45 margin with 2:21 left, Froid/ Lake struck for the next eight points on five points by Nesbit and a three-pointer by Connor Huft en route to the league victory.
Leading the Red Hawks were Nesbit with 22, Dethman with 13 and B Stentoft with 12 points. Also scoring were Huft with eight, Patton Bighorn with six, Nate Stentoft with three and Ashdyn Hobbs with two.
Reaching double figures for the Bulldogs were Knudsen with 17, J. Strickland with 16 and Chuck Butikofer with 11. Also scoring were Sam Butikofer with two and Braeden Romo with one.
Bainville gained an 11-9 lead on a basket by J. Strickland with 46 seconds left in the opening quarter, but five straight points by Dethman put the Red Hawks ahead 1411 at the end of the period.
The Red Hawks then ran off the first eight points of the second quarter on two three-pointers by Bighorn and a tip-in by Nesbit.
The Bulldogs, however, got right back in the contest on five points by C. Butikofer and a hoop by Knudsen to close the margin to 22-18.
Froid/Lake ended the first half on a three-pointer by N. Stentoft for a 31-23 advantage.
Three-pointer by J. Strickland and Knudsen kept the Bulldogs close in the third quarter. Froid/Lake led 46-38 at the end of the period.