Posted on
Red Hawks Down North Country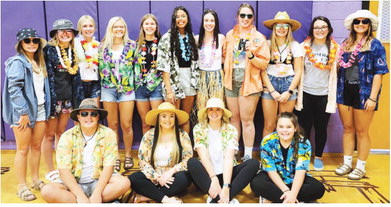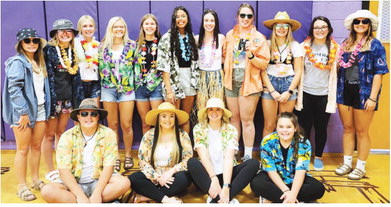 Froid/Lake scored a thrilling straight-set conference victory over North Country in Medicine Lake on Saturday, Oct. 2.
The Red Hawks came through at the end of each set to beat North Country by a 25-22, 29-27, 25-20, victory.
Froid/Lake trailed 16-15 in the first set until a spike by Mara Salvevold and a pair of kills by Dasani Nesbit produced a 20-16 advantage.
The net play of Nesbit, a junior, helped the Red Hawks increase the margin to 24-19.
After the Mavericks cut the margin to 24-22, the game ended on a serve into the net. Kills by Salvevold and Carolyne Christoffersen put the Red Hawks up by a 17-15 margin in the second set. Additional kills by Salvevold and Christoffersen kept Froid/ Lake ahead at 19-16.
After North Country tied the score at 21-21 and 2222, the Red Hawks moved ahead on kills by Nesbit and Salvevold. The two conference powerhouses kept battling and were even at 24-24, 25-25, 26-26 and 27-27.
Froid/Lake earned the last two points of the second set on a block by Nesbit and an ace by Salvevold.
In the third set, the Red Hawks fell behind early but took a 10-8 lead on an ace by Meg Ator. The net play of Nesbit and Salvevold put the lead at 15-11.
The Red Hawks gained a 20-16 advantage on kills by Nesbit and Christoffersen. Ahead 22-19, Froid/Lake struck on a tip by Nesbit and an ace by Ator. Froid/Lake scored the match's final point on a kill by Christoffersen.
Nesbit finished with 15 kills and five blocks. Ator accounted for 22 assists.
Other leaders for the Red Hawks included Salvevold with two aces and Aleah Johnson with seven digs.
The Froid/Lake Red Hawks overpowered MonDak in conference volleyball play on Tuesday, Sept. 29.
Dasani Nesbit led Froid/ Lake's attack with eight kills.
Carolyne Christoffersen served five aces. Meg Ator finished with 13 assists.
Aleah Johnson had three digs. Baylee Davidson scored one block.