Posted on
Governor Visits Eastern Montana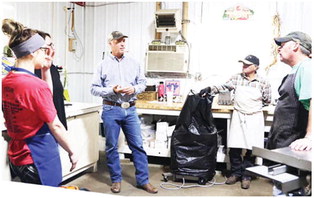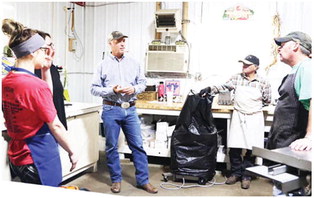 After addressing residents in Circle during a swing of eastern Montana last week, Gov. Greg Gianforte discussed the meth problems that many cities including Wolf Point are encountering.
Gianforte said the drug epidemic has been a top priority in his budget. His single largest new expenditure was $25 million into the HEART initiative that address addiction recovery and assistance for law enforcement.
"It's ripping our families and country apart," Gianforte told the audience in Circle regarding drug issues.
HEART, which stands for Healing and Ending Addiction Through Recovery and Treatment, will include funding for prevention, crisis intervention, treatment and recovery.
Gianforte's time in eastern Montana also included stops at Bainville Meats outside of Bainville, Sidney, Scobey, Plentywood and Jordan. The visits are part of the governor's 56-county tour.
"It helps me to learn from you," Gianforte told the crowd in Circle on Thursday, Sept. 30.
One topic mentioned was the problems with immigration on the nation's southern border. Gianforte said he and other governors will tour the border on Wednesday, Oct. 6.
The governor said it's unbelievable that the southern border is open while the northern border still isn't. He heard from a business owner in Scobey that she lost 30 percent of business during the past year.
Casey Nay, Circle's mayor, explained the challenges that Circle's VFW Post has encountered while trying to expand including increases of expenses for materials and delays in shipping.
The governor said there are major problems with the supply chain. He is proud that Montana was the first state to eliminate the unemployment supplemental benefits. He noted the improvements made in the state as far as unemployment rates.
Gianforte said he has established the Red Tape Relief Task Force to assist businesses and individuals when they deal with government entities.
"We're going through every regulation and reviewing it," the governor said. He urged people to express their concern with a regulation on the governor's website and also provide a possible solution.
When audience members brought up election fraud issues, Gianforte noted that Montana has gotten rid of same day registration and now requires photo identification. Gianforte said elections need to be run by state government and not by the feds.
On the topic of mandating COVID vaccines, Gianforte said he feels it's the government's job to educate about the vaccine and not enforce that it be mandatory. He did point out that nine out of 10 people with COVID in the hospital right now haven't been vaccinated.
He believes President Biden's decision to stop the Keystone XL pipeline was terrible for energy security and the economy. Officials are looking at options in the court to try to resolve the issue.
Gianforte said that he kept his campaign promise of having a fiscally responsible budget. The increase was less than 1 percent a year.
Trades education was one investment as the state will pay half of the tuition for those students. "That's part of bringing manufacturing back to the state," he said.
In addition, the Montana Department of Commerce has started working on the Come Home Montana program to encourage people to come back and work in the Big Sky State.