Posted on
Lady Wolves, Lady Indians Face District Tournament Play-in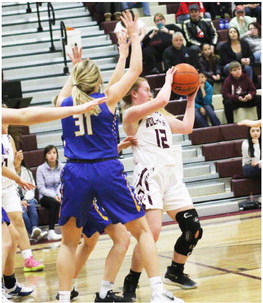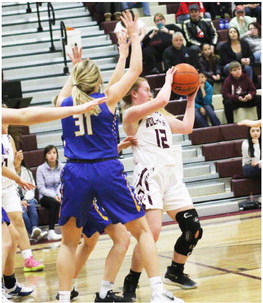 Finishing the regular season schedule fifth place in District 2B, the Lady Wolves and fourth-place Lady Indians will play a loser-out playin game Thursday, Feb. 20, to earn the No. 4 seed at the District 2B tournament in Malta.
The district tournament that will be held Friday and Saturday will advance all four teams to the Northern B Girls' Divisional in Shelby Thursday through Saturday, March 5-7.
Wolf Point (1-7, 4-14) and Poplar (1-7, 5-12) have both had tough seasons with slow starts. The Lady Wolves, the defending Class B state champion, are a young team that graduated six seniors from the team in March 2019.
Harlem (7-1, 16-1) is the conference leader with Malta (5-3, 10-7) in second place. Glasgow (4-4, 10-9) is in third place.
Wolf Point wrapped up the regular season schedule with a 71-40 conference loss to the Lady Scotties in Glasgow Thursday, Feb. 13, and a non-conference 59-31 loss to Scobey in the Wolves' Den Saturday, Feb. 15.
Poplar lost the schedule finale 73-33 to Harlem. No stats were available.
Wolf Point's Mya Fourstar played part of her final senior year home game against Scobey, despite being ill.
"Mya was sick. It was senior night and she wanted to go out for a few minutes," head coach Brent Nygard said.
He responded to a question about the play-in game with Poplar.
"Poplar can shoot the ball. They can get that three-ball," Nygard said.
"The regular season didn't go as planned, but the younger team members got a lot of varsity playing experience," Poplar head coach Les Bighorn said.
He called the postseason a new season.
"The new season starts and some teams are peaking and some have peaked," Bighorn said.
"The play-in game should be a good one. We split the season with each winning on their home court. It looks like it's going to come down to who takes care of the ball and who can put the ball through the rim more than the other team," he said.
Glasgow 71, Wolf Point 40
Wolf Point 6 12 8 14—40 Glasgow 18 14 12 27—71
Scobey 59, Wolf Point 31
Scobey 19 11 13 16—59 Wolf Point 7 12 7 5—31
Scobey: Kortney Nelson 21; Gracee Lekvold 16; Elli Linder 11; Karys Lamb 6; Ryleigh Backman 3: Daisy Hersel 2.
Wolf Point: J'ell Garfield 8; Hamyanie Campbell 7; Josie Kolstad 7; Jaylee Azure 5; Tori Nygard 4.
Harlem 73, Poplar 33
(Photo by John Plestina)