Posted on
Lady Wolves Beat Poplar, Fall To Harlem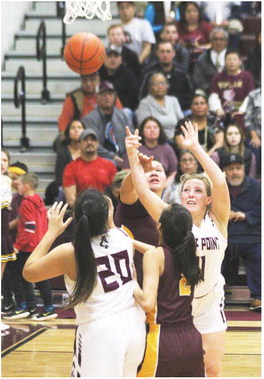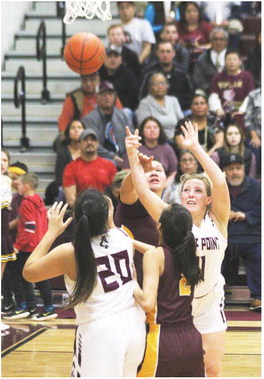 The Lady Wolves topped the Poplar Lady Indians 5446 in basketball action in Wolf Point Friday, Jan. 24, and dropped another District 2B home game to Harlem 62-50 Saturday, Jan. 25.
Harlem led at three quarter stops while Wolf Point out scored Harlem 15-12 in the final stanza.
The Lady Indians held small lead in the first half before the Lady Wolves posted 38-27 second half.
The Lady Wolves (1-5, 4-8) have struggled with slow starts this season.
Poplar (1-5, 3-10) dropped a conference game to Malta 5031 Saturday, Jan. 25.
"That's the neat thing about basketball [improving during the season]," Wolf Point head coach Brent Nygard said.
"I think Mya Fourstar had a great third quarter with 13 points," he said of the senior scoring 18 of her 19 points during the second half.
"I think Poplar played well," Nygard said.
"We had a tough weekend. Lots of minutes for our bench players, some whom have never started, but we came out and played two games with a lot of intensity," Poplar head coach Les Bighorn said.
Harlem 62, Wolf Point 50
Harlem 18 17 15 12—62 Wolf Point 13 12 10 15—50
Wolf Point 54, Poplar 46
Poplar 9 10 16 11—46 Wolf Point 6 10 18 20—54 Poplar: Jacora Youngman 5, Rilie MacDonald 8, Harlee Berg 2, Teagan Escarcega 6, Keandra Martell 20, Hollie Colgan 3, Macie Stump 2.
Wolf Point: Josie Kolstad 1, J'Ell Garfield 4, Hamyanie Campbell 7, Mya Fourstar 19, Tori Nygard 9, Jaylee Azure 14.
Malta 50, Poplar 31
Malta 16 11 8 15—50 Poplar 6 7 12 6—31