Posted on
Culbertson Edges Richey/Lambert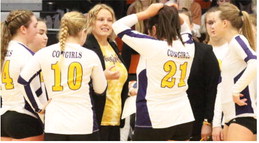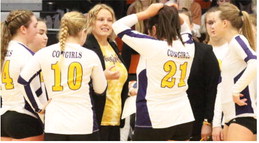 Culbertson fought off Richey/Lambert in five sets during loser-out action at the district volleyball tournament on Friday, Oct. 27.
The Cowgirls posted a 2520, 25-19, 14-25, 21-25, 15-11 victory.
Culbertson's attack led by Destiny Thompson and Mariana Burciaga led the Cowgirls to a 21-13 advantage in the second set. The Fusion fought back with three straight points to cut the gap to 22-17.
Ahead by a 24-19 margin, the Cowgirls ended the second set on a block by Ayden Ator.
After the Fusion earned victories in the next two sets, the Cowgirls gained a 5-3 lead in the deciding set on the serving of Ator and net play of Thompson.
A kill by Thompson produced a 7-5 advantage for the Cowgirls.
The Fusion led 11-10, but Culbertson came through with the final five points including an ace by Burciaga and a block by Jazzmin Fugere.