Posted on
Wolf Point's Summers Runs To State Championship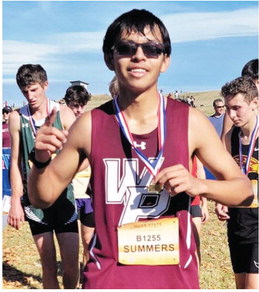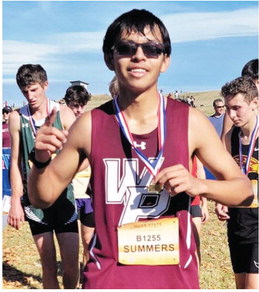 Wolf Point's Peyton Summers was glad that the long trip home from the Class B state cross country meet held in Kalispell ended with his supporters honoring him for his state championship with an escort through town on Sunday, Oct. 22.
His journey to winning that state title actually started about a year ago. Although it was an achievement to earn All-State honors for the second year in a row as a junior last season, Summers wasn't pleased with his 12th-place finish.
Instead of feeling bad for himself for not ending last season on a high note, Summers decided to make the commitment needed to be the next state champion.
"I went to work right after the season ended," the senior explained. "This definitely makes up for it."
His path to the title included running about 10 miles daily during the summer and competing at many runs throughout the state during that time.
Summers' goal since his freshman year has been to win the state championship after seeing then teammate Zander Ackerman accomplish the feat in 2020.
"It made me want to go after it," Summers said.
Heading into the state meet race on Saturday, Oct. 21, as the favorite, Summers admitted he was nervous.
"My teammates and coaches gave me confidence," Summers explained.
He completed the first mile in a very fast 4:43. "I went out a little too quick," he admitted.
Summers kept running strong in the second mile against his opponents.
"The second mile is when I started to pull away," he noted.
The third mile was slower, but Summers finished first with a time of 15:48.62.
"I physically had nothing left," Summers said about his championship effort.
Jefferson's senior Luke Mest finished second at 15:56.94. Three Forks' senior Bryson Fanning placed third at 16:07.68.
As a team, Wolf Point took 21st place with 541 points. The top three teams were Jefferson with 79, Columbus with 137 and Manhattan with 148 points.
Wolf Point's Rebel Mays placed 51st with a time of 18:48.40. Trent Hamilton took 142nd at 21:16.25.
Reilly Rees was 154th at 21:51.33. Ezekiel Gourneau placed 193rd at 23:35.36. Kevin Brock was 200th at 24:04.07.
Glasgow's junior Tanae Baker won the title in the girls' division with a time of 19:03.06. The top three girls' teams were Manhattan with 93 points, Glasgow with 103 and Huntley Project with 137 points.
Wolf Point's freshman Lakealah Mays finished in 119th place with a time of 26:26.60.
Coaches for Wolf Point's team are Stacey Summers and Cole Baker.