Posted on
Bainville's Football Season Ends Against MonDak Squad, 40-14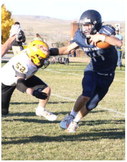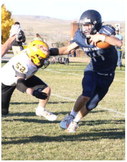 Too many turnovers committed by the Bulldogs along with a sharp passing attack by MonDak spelled trouble for Bainville's football team on Thursday, Oct. 19. In a game with playoff implications, the Bulldogs fell by a 40-14 final at home.
Bainville trailed by only a 14-8 half-time margin and 20-8 early in the third quarter. A 44-yard kickoff return by Reed Winn put the Bulldogs in scoring position to tighten the margin. Cayden Boyd scored on a three-yard run to bring the score to 2014 with 7:33 left in the third quarter.
The Bulldogs appeared to be ready to take the lead a couple of minutes later when Charles Butikofer intercepted a pass near midfield. Bainville's threat ended, however, on an interception by Thomas Arnson. The Thunder went on to score on a 23-yard pass play from Arnson to Elliot Rudningen with 3:46 remaining in the period.
After Bainville came up short on a fourth-down attempt, MonDak gained a first down to the Bainville three on a 23-yard completion from Graham Wright to Victor Christian. The Thunder scored on a short pass from Wright to Arnson for a 34-14 lead with 57 seconds left in the quarter.
A fumble recovery by Riley Hennager put the Thunder in scoring position again, but three straight tackles by Bainville's Isaiah Bjorge ended the threat.
MonDak was able to add to its lead midway into the fourth quarter when a 17-yard completion from Wright to Rudningen put the margin at 40-14 margin with 6:22 remaining.
After a scoreless first quarter in the conference battle, MonDak scored on the second play of the second quarter when Wright scrambled in from the one.
The Thunder reached the end zone again on a 44-yard pass from Wright to Riley Hennager for a 14-0 margin with 7:56 left in the half.
A deflected pass was intercepted by MonDak's Wright at the Bainville 38, but strong defensive plays by Bainville's Sam Butikofer, Winn and Boyd stopped the threat.
On Bainville's next possession, Boyd passed to C. Butikofer in stride for a 33-yard play down to the MonDak 10. On second down from the six, Boyd scored for the Bulldogs. Alex Strickland added the kick to cut the margin to 14-8 with 2:33 left in the half.
The Thunder struck first in the third quarter on a 24-yard pass from Wright to Cade Else for a 20-8 advantage.
The Bulldogs finished their season with a 4-4 record.