Posted on
Wolves Fall To Wildcats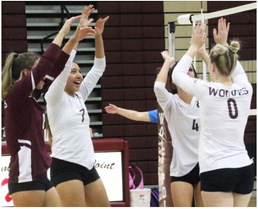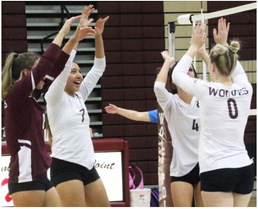 Wolf Point's volleyball squad lost a tough home match against a solid Class C Plentywood team on Tuesday, Oct. 3. The Wolves fell by a 25-27, 20-25, 17-25, final.
The accurate serving of Kaleah Miller-Toves and hard hitting of Gabrielle Fourbear highlighted action as the Wolves gained an 11-5 advantage in the first set. The Wolves held a 13-10 lead on a kill by Sierra Hamilton.
The match was deadlocked at 17-17, but the Wolves moved ahead 20-17 on a serve by Hamilton and a tip by Fourbear.
An ace by Hamilton increased the gap to 21-17. Plentywood fought back to 22-21 on kills by Audrey Sampson and Lexi Kittelson.
After the Wildcats took a 25-24 lead, Wolf Point responded with a tip by Hamilton. Plentywood talied the last two points of the set on kills by Mallory Tommerup.
Kills by Fourbear and Kelley Blount-Henderson helped the Wolves gain an 1815 lead in the second set.
Plentywood grabbed a 1918 lead, but the Wolves struck back on a block by Fourbear and kill by Blount-Henderson. Plentywood scored the final six points of the set for a 25-20 win.
The Wildcats jumped out to a 6-0 advantage in the third set. The Wolves battled back to 11-8 on a pair of blocks by Kashlyn Speak Thunder.
Kills by Miller-Toves highlighted Wolf Point's play, but Plentywood captured a 23-12 advantage.
The Wolves scored on kills by Fourbear and Hamilton down the stretch, but a kill by Plentywood's Tommerup ended the match.