Posted on
Lady Wolves Down Poplar In Conference Volleyball Match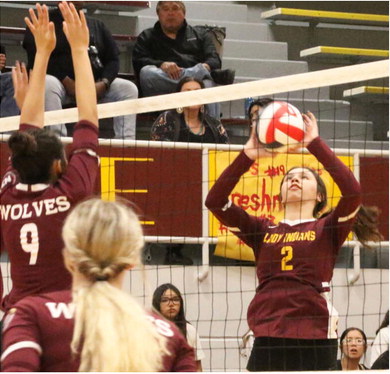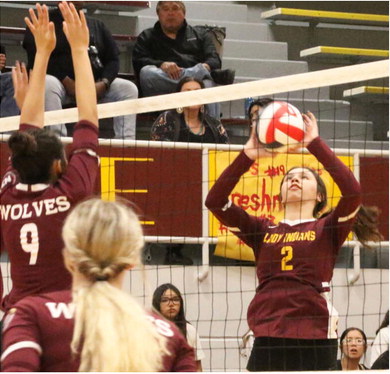 In an exciting battle on the volleyball court, Wolf Point fought off Poplar by a 25-18, 25-12, 26-24, final in Poplar on Friday, Oct. 6.
The Indians gained a 7-5 lead early on a pair of kills by Braelyn Nordwick and a block by Kessee Erickson. After a kill by Keeley Blount-Henderson helped Wolf Point take the lead, Poplar pulled to 10-9 on a block by Cammie Martell and an ace by Rebecca Gorder.
Wolf Point's Azalei Ackerman served an ace for a 13-9 advantage, but the net play of Toni Brown kept the Indians close.
A block by Kylie Rodenberg and a hard kill by Sierra Hamilton put the Wolves up by an 18-14 margin. A kill by Kashlyn Speak Thunder was good for a 20-17 lead, but Poplar's Erickson answered with a kill of her own.
The Wolves then accounted for the last five points of the first set including a tip by Rodenberg, an ace by Blount-Henderson and a kill by Hamilton.
Ahead by a 9-5 margin in the second set, the Wolves ran off four straight points including a kill and ace by Blount-Henderson, a kill by Rodenberg and a tip by Hamilton.
With the score at 15-8, Wolf Point used two kills by Hamilton and an ace by Rodenberg to gain a 20-8 advantage. The Indians scored on an ace by EmmaRae Martell, but the Wolves won the second set by a 25-12 final.
A kill by Nordwick and a block by Brown put Poplar ahead by a 13-10 margin in the third set. A pair of kills by Erickson were good for a 17-13 lead.
The Wolves tied the score on the serving of Kaleah Miller-Toves. Kills by Hamilton and Speak Thunder put Wolf Point ahead by a 20-19 lead. Poplar responded with the next three points including a kill by Erickson and block by E. Martell to gain a 22-20 advantage.
Poplar moved ahead 24-22, but Wolf Point struck for the final four points of the match including three points on Rodenberg's service.
Poplar opened the week falling to Fairview in three straight sets on Thursday, Oct. 5. The Indians will host Glasgow on Friday, Oct. 13, and then travel to Malta on Friday, Oct. 14.