Posted on
Froid/Lake Stays Undefeated With Road Victory Over Plevna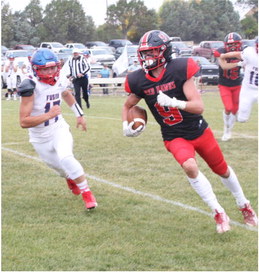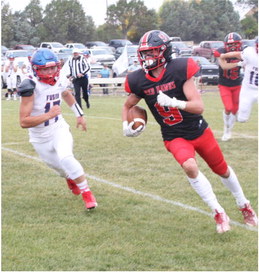 The Froid/Lake Red Hawks kept rolling with a 50-15 road victory over Plevna on Saturday, Oct. 7.
Froid/Lake reached the end zone on its first possession when senior tailback Daniel Forizs scored on a running play.
After tackles by Forizs and Mason Dethman stopped Plevna's possession, the Red Hawks went 62 yards on their next drive. Runs by Forizs set the Red Hawks at near midfield. Joseph Robertson then connected with Cian Logan on a 40-yard touchdown pass. Dethman's kick put the margin at 16-0.
Plevna's next possession ended on a fourth-down tackle by Logan. A short pass from Dethman to Robertson resulted in a 35-yard scoring play. Dethman added the kick for a 24-0 advantage.
The Red Hawks' first score of the second quarter came on a six-yard run by Nate Stentoft for a 30-0 lead.
Two tackles by Stentoft and a tackle for loss by Owen Logan highlighted play as the Red Hawks stopped Plevna's next drive.
Froid/Lake reached the end zone when Dethman took a short pass from Forizs and knocked over two wouldbe tacklers on the way to a 46-yard touchdown. The Red Hawks enjoyed a 36-0 halftime advantage.
After a short kickoff by Plevna, the Red Hawks opened the third quarter with a 34-yard scoring drive. A nice 13-yard run by Cody Olson produced a first down at the 11. On the next play, Olson scored for a 42-0 margin. Froid/Lake's final touchdown was scored by Landen Kelm on a 12-yard dash. Dethman added the kick for a 50-0 lead to end the third quarter.
Plevna scored on a 55-yard run and an 18-yard pass in the fourth quarter.
The Red Hawks will play at MonDak on Friday, Oct. 13.