Posted on
Bainville Scores League Victory In Brockton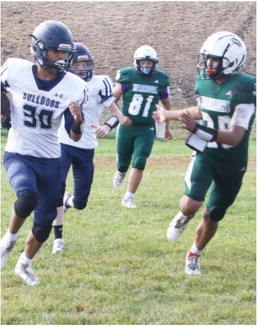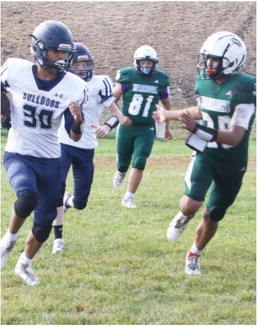 The Bainville Bulldogs scored on the opening kickoff and never looked back in their 64-6 six-man football victory in Brockton on Saturday, Sept. 23.
The game started with Isaiah Bjorge grabbing the kickoff and running 52 yards for a touchdown. Alex Strickland kicked the conversion for a very quick 8-0 advantage.
On Brockton's first offensive possession, Samuel Butikofer intercepted a pass and went into the end zone to put the Bulldogs ahead 14-0.
A quarterback sack by S. Butikofer ended Brockton's next possession. S. Butikofer then returned the punt 23 yards for a touchdown. Strickland's kick put the margin at 22-0 with 6:47 left in the first quarter.
After strong defensive plays by Bjorge and Strickland, Bainville's next possession started on the Brockton 23. A pass from Rowan Wilson to Strickland moved the ball to the 18. On the next play, Cayden Boyd broke loose for a touchdown.
A 12-yard pass from Wilson to Strickland produced Bainville's next touchdown. Strickland added the conversion for a 36-0 advantage with 3:33 left in the opening quarter.
The Bulldogs' first touchdown of the second quarter came on a 19-yard dash by Kaiden Holmes for a 42-0 lead.
After an interception by Samuel Butikofer, Bainville reached the end zone again on a 20-yard run by Homes for a 48-0 advantage.
Bainville added two touchdowns in the second half. Holmes returned a kickoff 55 yards for the first touchdown. Keagan Vaira raced 20 yards for a touchdown for the second touchdown. The Bulldogs will host Savage for homecoming on Saturday, Sept. 30.