Posted on
Wolves Lose At Home Against Shepherd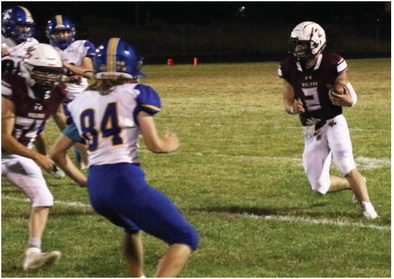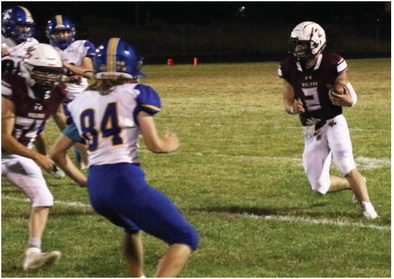 The Wolf Point Wolves ran into a strong football squad from Shepherd on Friday, Sept. 15. The Wolves lost the home game by a 36-6 final.
Shepherd scored on its second offensive play from scrimmage when Aidan Lammers ran 74 yards for a touchdown. Nolan Baumgarten kicked the conversion for a 7-0 margin.
After a fine punt return by Nate Reynolds to the Wolf Point 35, the Mustangs went on to score on an 11-yard pass from Cole McCann to Phil Kelly. Lammers battled in for the two-point conversion for a 15-0 margin.
Shepherd's third touchdown of the first quarter came on a 45-yard dash by Lammers with 1:18 remaining.
Wolf Point's Preston Swenson returned the ensuing kickoff 28 yards, but the Wolves' offense couldn't get anything going against Shepherd's defense. A 30-yard run by Lammers increased Shepherd's lead with 10:14 left in the half. Baumgarten's kick put the margin at 29-0.
Michael Bell and Swenson connected on a couple nice pass plays on Wolf Point's next possession, but the Wolves couldn't get past midfield.
Shepherd hit paydirt again when McCann passed to Nate Reynolds for a 46-yard touchdown. Baumgarten's kick put the margin at 36-0 with 6:14 left in the half.
The Wolves had a chance to score early in the second half when Ifeanyi Aniobi recovered a fumble on the Shepherd 40. Bell used great second effort on a fourthdown run to earn a first down at the 24.
On fourth down from the 39, the Wolves tried a fake field goal attempt but Shepherd made a tackle short of the needed yardage.
After a tackle by Aniobi stopped Shepherd's next possession, the Wolves took over at the Shepherd 36. A throw from Bell to Swenson picked up a first down at the 26. The Wolves gained another first down on a pass from Bell to Sam Boysun.
Facing fourth down at the 16, the Wolves hit the end zone when Bell passed to Swenson and the wide receiver reached the ball into the end zone with eight seconds remaining.
Bell led the Wolves with 32 yards rushing. Swenson caught seven passes.
Shepherd's Lammers finished with 183 rushing yards.
Wolf Point will travel to Cut Bank on Friday, Sept. 22. Game time is 7 p.m.