Posted on
Wolf Point Downs Poplar In Conference Volleyball Match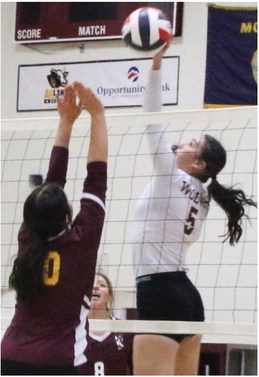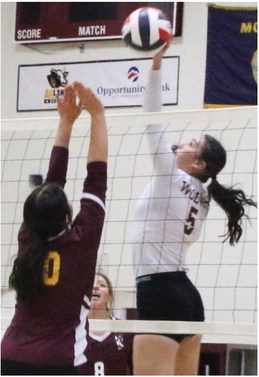 The Wolf Point Wolves fought off a strong challenge from Poplar to win a conference volelyball match at home on Thursday, Sept. 14.
Wolf Point posted a 25-23, 25-17, 22-25, 25-12, victory.
In the first set, the Indians came out ready to play and gained a 9-3 advantage as the serving of Kessee Erickson and net play of Braelyn Nordwick highlighted action.
Wolf Point was able to cut the margin to 14-10 on a block by Kashlyn Speak Thunder, but Poplar built a 20-10 advantage. A serve by Speak Thunder and a block by Keeley Blount-Henderson pulled the Wolves to 20-16.
With Poplar ahead 22-18, the Wolves accounted for four straight points including an ace by Gabrielle Fourbear and a nice net play by Sierra Hamilton. Poplar moved ahead 23-22, but Wolf Point tallied the last three points of the set including two on kills by Hamilton.
In the second set, the Wolves broke loose from a 15-13 score by putting up five straight points on the net play of Fourbear and Blount-Henderson.
An ace by EmmaRae Martell helped Poplar get as close as 23-17, but Wolf Point finished the second set with a block by Kylie Rodenberg and a kill by Hamilton.
Poplar held an 18-14 lead in the third set until a tip by Rodenberg and the serving of Fourbear got the Wolves as close as 18-17.
The Indians responded with the next three points including a block by Erickson. A kill by Nordwick put the margin at 23-18.
Wolf Point fought back to 24-22 on the serving of Rodenberg and net winners by Hamilton, but Poplar won the set on a tip by Erickson.
In the fourth set, Wolf Point jumped out to a 5-1 lead on kills by Speak Thunder and Kaleah Miller-Toves.
Ahead by a 12-6 margin, the Wolves kept rolling on an ace by Azalei Ackerman along with kills by Blount-Henderson and Hamilton for a 15-6 advantage. Another powerful kill by Hamilton and an ace by Rodenberg put the margin at 17-8.
Ahead by a 21-12 score, the Wolves accounted for the final four points of the match on the net play of Speak Thunder and Fourbear.