Posted on
Bainville Scores 45-0 Home Victory Over Plevna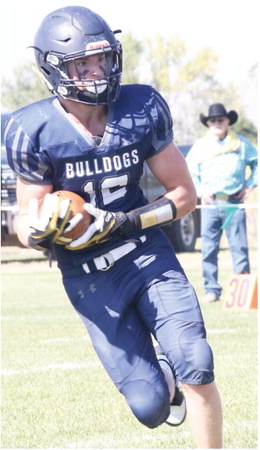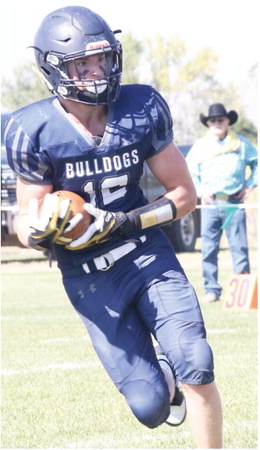 Bainville's offensive attack got going early as the Bulldogs rolled to a 45-0 home football victory over Plevna on Saturday, Sept. 16.
After a sack by Bainville's Samuel Butikofer forced Plevna to punt from its end zone on its first possession, Charles Butikofer returned the punt 12 yards to the Cougars' 26.
On third down, the Bulldogs got on the scoreboard when Rowan Wilson connected with Alex Strickland on a 21-yard touchdown pass.
Bainville's defense then stopped Plevna again on solid defensive plays by S. Butikofer, Trevor Robertus and Logan Josephson. The Bulldogs marched down the field on passes from Wilson to Cayden Boyd. A catch by Robertus produced a first down at the three.
Two plays later from the three, Wilson hit Boyd for a touchdown with 2:46 left in the opening quarter. Boyd passed to S. Butikofer for the conversion and a 13-0 lead.
The Bulldogs struck early in the second quarter on a nine-yard completion from Wilson to Robertus for a 19-0 advantage.
The Bulldogs were soon back in business again when S. Butikofer forced a fumble and the ball was recovered by Reed Winn at the Plevna 30.
After Wilson connected with C. Butikofer for an 11--yard gain to the 19, Wilson passed to Boyd for a touchdown with 7:55 left in the half to put the margin at 25-0.
Bainville's defense created another turnover when C. Butikofer intercepted a pass at the Plevna 28. The Bulldogs kept the drive alive when a pass from Wilson to Boyd was good for 11 yards to produce a first down at the three. A shovel pass from Wilson to C. Butikofer resulted in a touchdown and a 31-0 lead.
The Bulldogs increased their lead to 37-0 when Boyd scored on a one yard run with 3:42 remaining in the third quarter.
Bainville accounted for a 35-yard scoring drive early in the fourth quarter that featured the strong running of Boyd. The Bulldogs reached the end zone on a three-yard dash by Boyd. Strickland kicked the conversion for a 45-0 margin.
The Bulldogs will travel to Brockton for their next game on Saturday, Sept. 23.