Posted on
Wolves Drop Close Game To Baker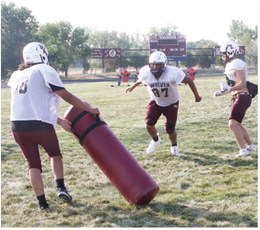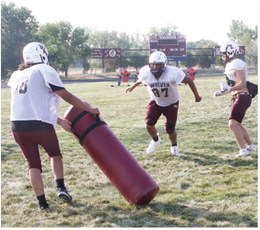 Wolf Point's football team put up a good fight but came up short in Baker, 12-7, on Friday, Sept. 1.
Down by a 12-0 margin, the Wolves used the hard running of Charles Page and quarterback Michael Bell to drive deep inside Baker territory late in the third quarter.
After an unsportsmanlike conduct penalty moved the ball to the 20, Page broke loose for a 15-yard gain to the five. On the next play, Page scored for the Wolves.
Preston Swenson kicked the PAT to cut the margin to 12-7.
After strong defensive plays by the Wolves forced Baker to punt the ball from its own end zone, the Wolves took over on the Baker 38. Rushes by Page, Bell and Maddox Reum resulted in first downs inside the Spartan 15. The threat, however, ended with a fumble.
Wolf Point's final two plays ended on another fumble and a quarterback sack.
Page finished the game with 96 yards on 19 carries.
Bell led the Wolves with nine total tackles. He had a pass break up and a quarterback pressure.
Sean Hamilton registered nine tackles. Swenson added eight tackles includes two for losses. Lennox Lilley had five tackles.
Other defensive leaders included Page with eight tackles and one pass break up, Reum with an interception and Ifeayani Aniobi with a quarterback sack.
Wolf Point will have its home opener against Fairfield on Friday, Sept. 8. Fairfield has a record of 1-1 with a victory over Roundup and a loss against Whitehall.
"Fairfield looks fast and solid," Wolf Point coach Anthony Red Cloud said.