Posted on
Froid/Lake Stops Bainville In Six Man Football Action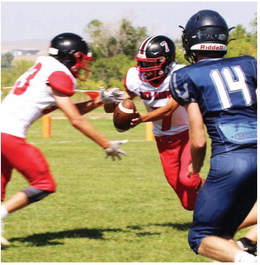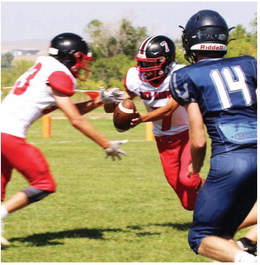 The Froid/Lake Red Hawks exploded for 48 points in the first half and downed Bainville, 56-6, on Saturday, Sept. 2.
The Red Hawks reached the end zone on their first offensive play from scrimmage when Joseph Robertson connected with Mason Dethman on a 50-yard touchdown pass. Dethman kicked the conversion for an 8-0 lead.
After nice runs by Daniel Forizs and Nate Stentoft, the Red Hawks' second touchdown was scored on a threeyard run by Dethman with 5:49 left in the quarter.
Stentoft broke loose for a 23-yard touchdown run. Dethman's kick increased the margin to 24-0 with 2:45 left in the first quarter.
Bainville then put together a strong drive on receptions by Trevor Robertus and Samuel Butikofer. A fourth-down scramble by Rowan Wilson kept the drive alive.
The Bulldogs had a first down on the one, but Stentoft then recovered a fumble and went the distance for another Red Hawk touchdown.
Froid/Lake's next touchdown came on a 24-yard pass from Robertson to Cian Logan. Dethman's kick was good for a 40-0 lead with 7:38 remaining in the half.
After strong runs by Forizs and Cody Olson, the Red Hawks scored on a seven- yard dash by Forizs for a 48-0 half-time lead.
The Bulldogs got on the scoreboard when Cayden Boyd connected with Robertus on a 19-yard pass.
The Red Hawks' final touchdown came on a 66yard run by Dethman.
Froid/Lake will host Savage Savage at 1 p.m. on Saturday, Sept. 9.
Bainville travels to Jordan on Friday, Sept, 8.