Posted on
Summers Earn First Place In Half Marathon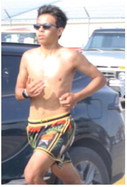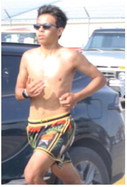 Wolf Point's Peyton Summers finished in first place for the Big Sky State Games' half marathon on Saturday, July 15.
Summers, who is entering his senior year at Wolf Point High School, finished with a time of 1:21.50.64.
Sierra Summers placed 14th in the women's division with a time of 2:10.22.10. She earned second place in the women's 19-24 age division.
Stacey Summers ran the 5K in 34:10.10 for 27th place in the women's division. She finished first in the women's 50-54 age division.
Summers
Peyton Summers nears the finish line during the Human Stampede in Wolf Point.
(Photo by Bill Vander Weele)