Posted on
Bainville Girls Earn Championship Of Major Softball Tourney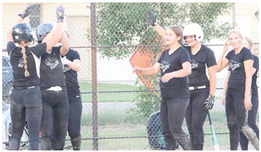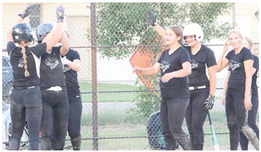 The Bainville Bandits went through the tournament undefeated to win the major league softball championship held in Culbertson on Monday, June 26.
Bainville defeated Wolf Point by the 12-run rule in the Bandits' first game of the tournament. Destiny Thompson connected for a home run to highlight the action.
Bainville then knocked off Plentywood by a 10-5 final.
Bainville jumped out to an 8-1 advantage going into the bottom of the second. Plentywood had the bases loaded in the bottom of the second, but Bainville got out of the inning when Hailey Berwick struckout one batter and shortstop Elsie Wilson caught a fly ball.
Lila Butikofer scored Bainville's first run in the third as the Bandits increased its lead to 10-1 in the third inning.
Bainville downed Wolf Point, 20-8, in the championship game.
Ahead by a 3-1 margin, Bainville struck for seven runs in the bottom of the second inning. A triple by Thompson scored three runs in the frame. Wilson, Berwick and Layken Rabbe also connected for hits in the inning.
Wolf Point cut the gap to 10-4 in the top of the third. An infield hit by Anna Matejovsky scored one of the runs.
Thompson belted a tworun homer and Kaelyn Romo came around the bases on a hit and error in the bottom of the third to help Bainville grab a 17-4 lead.
Wolf Point kept battling and got as close as 17-8 in the top of the fourth inning. Bainville's Berwick, Thompson and Kaelyn Romo scored in the bottom of the fourth for the 20-8 final.