Posted on
Badger Creek Shooting Sports Promotes Safety, Family Events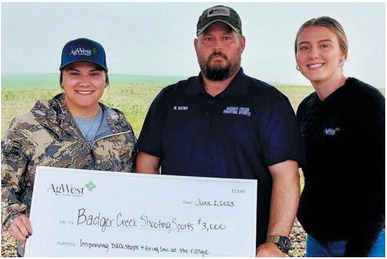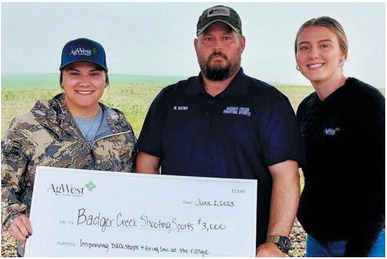 The goal of Badger Creek Shooting Sports to promote safety in the area has been helped recently by a donation from Ag-West Farm Credit Services.
The donation geared to improve the shooting range's backstops and firing range was for $3,000. The range is located south of Poplar.
"It will go a long ways to improve the range we're working on," said Wayne Brown, director of operations and a founding member of Badger Creek Shooting Sports.
Badger Creek provides firearms safety instruction and training throughout northeast Montana.
"The main focus of Badger Creek Shooting Sports is the safe use of firearms and to introduce the enjoyment of shooting sports," Brown said.
He notes family days and women's clinics are among the offerings.
Courses include monthly 22-long rifle precision matches. Brown notes the matches are great events for individuals who have shooting experience but wish to try something a little different.
A national level match, the Badlands Brawl, is described as "the roughest 22LR match in the country." The fourth annual event is scheduled for Sept. 9.
Brown said the Badlands Brawl usually attracts between 45 and 70 participants.