Posted on
Nike N7 Experience Attracts Young Golfers To Wolf Point Course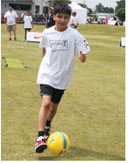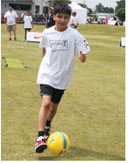 The Wolf Point Airport Golf Course was packed with young golfers to cap the Fort Peck Tribal Youth Summit on Saturday, June 17.
With equipment from Nike N7 transported from Oregon for the event, youngsters were having the time of their lives in five separate age groups at the Nike N7 Junior Golf Experience.
"It's designed to give kids a chance to play and have fun," Prairie Blount, executive director of the American Indigenous Business Leaders, said. "It's the first time golfing for a lot of the kids. It gives them a good introduction to the game."
She noted that the event was made possible through the sponsorship of Nike N7, the American Indigenous Business Leaders, Center for Native American Youth and Fort Peck's Health Promotion/ Disease Prevention program.
The Nike N7 equipment was transported from Portland, Ore. Blount thanks Easton Copenhaver, the golf course's president, for helping organize the event and having volunteers set up the project.
Instructors included club pros along with former professional golfer Clint Begay.
Blount noted about 350 young people took part in activities between a basketball camp, the golf event and the youth conference during the weekend. Leading the basketball camp were Lakota Beatty, Michael Linklater, Jude Schimmel, Troy Blount and Cody Larson.
Hopefully, organizers can build on this year's success for many years to come.
"We would like to. It depends on if the community wants it to come back," Prairie Blount said.