Posted on
Culbertson Class Featured Memorable Athletes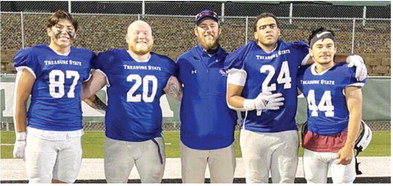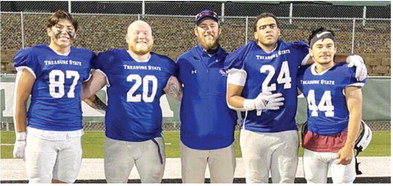 When it comes to athletics, Culbertson High School probably lost one of its best group of graduates in quite some time with the class of 2023.
Two years ago, when these boys were only sophomores, the Cowboys struggled with a very challenging season. At one point, they were down to just 11 players because of injuries. They weren't able to pick up a single victory during the COVID impacted season.
The following year, fans were able to enjoy a lot more exciting campaign. Culbertson took second place in the Eastern C and qualified for the playoffs. The Cowboys lost to powerful Belt, 36-15, in the first round of the playoffs, but it was certainly a season of thrills and good memories.
Now, this past season, was even better. The Cowboys marched through the regular season and claimed the Eastern C championships. Highlighting the year was a 56-34 quarter-final round playoff victory over Superior. It was Culbertson's first win in the quarter-final round since 1973.
Four of the seniors received All-State honors as Colin Avance, Justice Bengochea, Kobe Nickoloff and Payton Perkins earned the recognition. Seniors Hugh Donaldson and Tucker Finnicum also played huge roles in the Cowboys' success.
The state track meet was a fitting end to the careers of Bengochea and Nickoloff. Bengochea placed second in the shot put while Nickoloff captured second place in the javelin. I thought how through the cold day of a football playoff game to the sunny weather of a state track meet in May, I watched these young men mature and truly impress as student athletes. They are going to be missed.
Culbertson's girls' athletics were also blessed to have an excellent senior class.
The abilities of MaKena Hauge, Megan Granbois, Alicyn Ator and Perla Burciaga are going to be missed on the basketball floor. They led the Cowgirls to a fourth-place showing at the divisional tournament, which is quite an accomplishment.
Hauge, Ator and Burciaga were also strong reasons that Culbertson produced a solid volleyball program for the past several seasons. They were always fun to watch.
In cross-country, Kayli Olson and Megan Granbois were leaders as Culbertson/ Bainville earned team trophies at the last two state cross country meets. Olson should be commended for running to All-State honors as a senior.
With the departure of these seniors along with coaching changes, Culbertson's sports are going to be different come next fall. It might take a little patience for fans early in the seasons, but I'm confident some younger players are looking forward to leading their teams to success.