Posted on
MacDonald, Summers Place At State Meet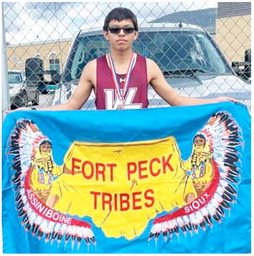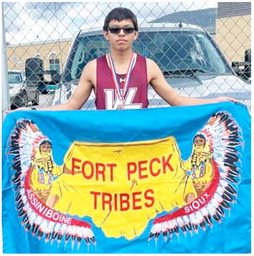 Standout performances by Katelyn MacDonald and Peyton Summers highlighted the Class B state track meet for Wolf Point athletes.
Wolf Point scored eight points in both the boys' and girls' divisions at the meet held in Butte.
Top boys' teams were Jefferson with 72, Florence/ Carlton with 57 and Loyola/ Sacred Heart with 55 points. Glasgow placed sixth with 41 points.
Topping the girls' standings were Loyola/Sacred Heart with 68, Huntley Project with 66 and Sweet Grass County with 38 points. Glasgow tied for sixth place with 32 points.
MacDonald, a senior, earned second place in the javelin with a best of 1265. The distance sets a new school record that MacDonald accomplished at the divisional meet. Ashley Carroll of Shepherd took first place with a mark of 134-3.
Her best throw at the meet was her first effort.
"I'm proud of myself. I went into State ranked third and was so nervous that I wouldn't hit an All-State mark because anything could happen at State," MacDonald said. "But I did my absolute best to maintain my nerves and distract myself so I could go in confident and relaxed. I'm glad to say, I did it. If I had a couple more weeks to work on javelin, I know I could break 130."
Summers, a junior, finished in third place for the 3200-meter run with a time of 10:12.58. Florence/Carlton's Kyler Harris ran to first place at 9:50.37.
Summer had a time of 4:35.75 for fifth-place honors in the 1600. Bigfork's Jack Jensen won the race in 4:28.26.
This is the second straight year for Summers to earn All-State honors as he placed second in the 3200 and fourth in the 1600 at last year's state meet.
Juliun Benson came close to placing as the senior was eighth in the 100 (11.74) and ninth in the 200 (23.38).
Wolf Point's 400-meter relay team featuring Kraven Silk, Preston Swenson, Maddox Reum and Benson finished in ninth at 45.54 seconds.
The best showing for the Poplar Indians came from Jazmyn CarryWater. She finished 10th in the 1600 at 5:50.34 and 10th in the 3200 at 12:58.59.