Posted on
Lustre Posts Championship Performances At State Meet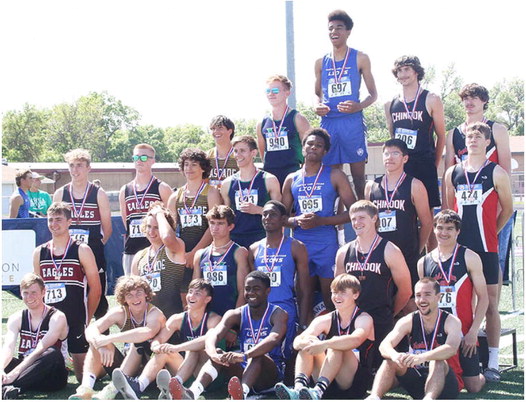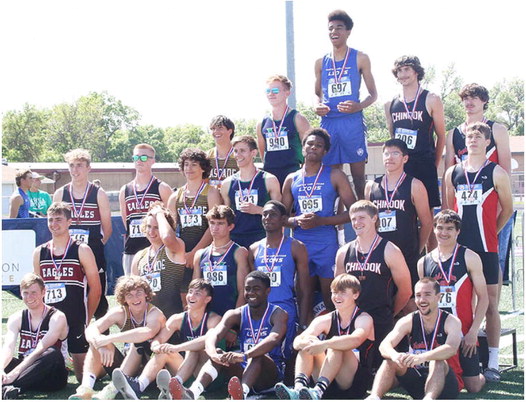 The Lustre Lions impressed with three first-place performances and came close to a team trophy during the Class C state track meet held in Laurel on Friday, May 26, and Saturday, May 27.
The Lions finished with 40 points for fourth place. The top three teams were Manhattan Christian with 81, Belt with 48 and Chinook with 42 points.
Top girls' squads were Plentywood with 75.75 points, Manhattan Christian with 66 and Savage with 47 points. Scobey and Roberts tied for fourth place with 44 points each.
After struggling with handoffs throughout the season, Lustre's 400-meter relay team came through with perfect execution when it mattered most. The relay featuring junior Terran Joseph, freshman Johnslee Pierre, senior Braden Ewing and senior Jasiah Hambira finished first with a time of 43.85 seconds.
"It was the hand-offs, really," Hambira said of the key to achieving top honors. "We were consistent all the way through but had better handoffs."
Joseph added, "It's a great send-off for the seniors."
Hambira then captured first place in the high jump by being the only competitor to clear 6-6.
He cleared the winning height on his third attempt.
"I was more than confident," Hambira said of making the height. "I've been working for this all year with mental reps."
After being slowed with an illness last season, Hambira was happy to return as the top high jumper in Class C. He also won the title as a sophomore.
"I was getting my crown back," Hambira said.
Pierre ran a personal best time of 39.98 seconds to finish first in the 300-meter hurdles.
The freshman never competed in track until coming to Lustre.
"They asked me to do it, and I did," Pierre said of running the 300-meter hurdles.
His best time in the race prior to the state meet was 42 seconds.
Hambira earned fourth place in the 400 with a time of 51.81 seconds. The senior took sixth in the 200 at 23.7 seconds and sixth in the triple jump with a mark of 42-8.
Pierre placed fourth in the triple jump with a best of 438.
Other Eastern C athletes winning state titles at the meet were Saco's Blaine Downing in the pole vault, Savage's Brooke Reuter in the 100 and 200, Whitewater's Shelbi LaBrie in the 1600, Plentywood's Annie Kaul in the 3200 and pole vault, Plentywood's Emma Brensdal in the shot put and discus, Scobey's Carrie Taylor in the javelin and Plentywood's Audrey Sampsen in the high jump.