Posted on
Area Athletes Place At Class C State Track Meet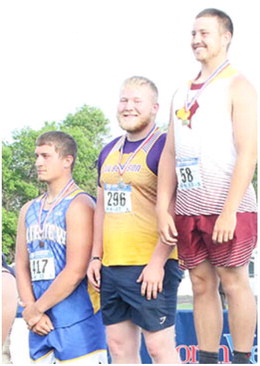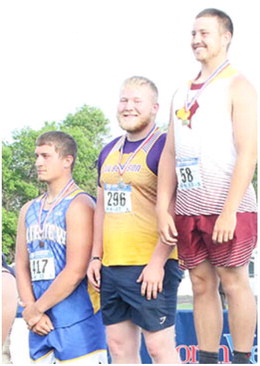 Athletes from Culbertson, Froid/Lake and Bainville earned honors during the Class C state track meet held in Laurel May 26-27.
Culbertson's Justice Bengochea and Kobe Nickoloff ended their outstanding high school athletic careers by winning state medals.
Bengochea capped his meet by taking second place in the shot put with a personal best of 49-9.
"I ended it with a bang," Bengochea said.
Going into the meet, he was hoping to achieve a personal best and hit 50 feet. Earning second place was also a goal. Belt's standout Memphis Black earned first place at 52-1.
"I didn't think that anybody was going to beat Memphis." Bengochea said.
Earlier in the meet, Bengochea earned fifth place in the discus with a mark of 143-6.
Nickoloff came through in the javelin with a best of 16311 for second-place honors.
"I pretty much stayed at 163 all year," Nickoloff said. The senior was hoping for a better distance, but he was pleased of taking home the second-place medal from the state meet.
Coming close to placing for the Cowboys was Reese Moon with a mark of 20-1 for seventh in the long jump. Megan Granbois cleared 4-10 for ninth in the high jump.
Froid/Lake's Carolyne Christoffersen earned second place in the shot put with a mark of 39-8. She led the event going into finals.
The distance was Christoffersen's best of the season. Last year, her best was 40-4. She said she has been going over 40 feet during practices.
"It didn't happen, but it's OK," she said. She is heading to Montana State University on a track scholarship.
Froid/Lake's boys' 400-meter relay team featuring Daniel Forizs, Landen Kelm, Max Engelke and Mason Dethman finished in fifth place with a time of 45.26 seconds. The relay broke both the school records in Froid and Medicine Lake.
"We were in the top five coming in," Dethman said. "We were surprised by our time though."
Engelke added, "It really was fast."
Dethman, a junior, finished fourth in the 200 with a time of 23.40 seconds and fifth in the 100 with a time of 11.64 seconds.
Bainville's Samuel Butikofer and Charles Butikofer each cleared 6-0 to tie for fifth place in the high jump. The meet's announcer joked that the twins will have to fight it out at home to determine who keeps the fifthplace medal.
Bainville's Elsie Wilson broke her own school record in the 300-meter hurdles with a time of 50.86 seconds.
In the team standings, Culbertson tied for ninth place with 18 points and Froid/ Lake tied for 16th with eight points. The top three boys' teams were Manhattan Christian, Belt and Chinook.
Froid/Lake's girls scored eight points for 15th place. Topping the girls' standings were Plentywood, Manhattan Christian and Savage.