Posted on
Cowboys Capture Third Place At Eastern C Divisional Meet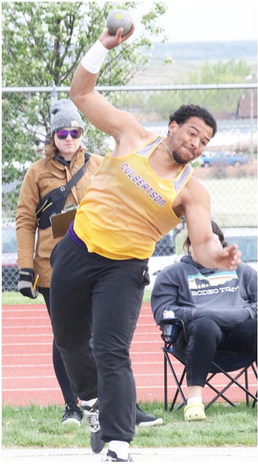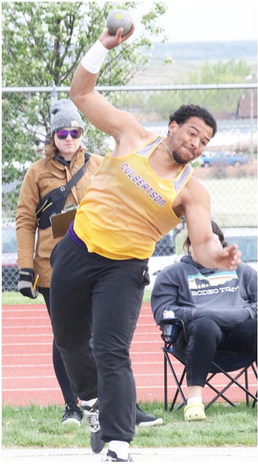 The Culbertson Cowboys accounted for 62 points to bring home the third-place trophy from the Eastern C divisional track meet held in Lambert on Thursday, May 18.
The top two boys' teams were Lustre Christian with 87 and Plentywood with 71 points.
Topping the girls' standings were Plentywood with 117.5 points, Scobey with 96 and Savage with 82 points. Culbertson finished in 11th place with 14 points.
Bridger Salvevold and Kobe Nickoloff each won individual titles at the meet that was held in cool, windy conditions. Salvevold, a sophomore, finished first in the 100-meter dash with a time of 11.36 seconds. Nickoloff, a senior, earned first in the javelin with a mark of 155-8.
Coming through with second- place performances for the Cowboys were Colin Avance with a mark of 139-3 in the discus, Justice Bengochea with a mark of 46-8 in the shot put and Reese Moon with a best of 20-8 in the long jump.
The 400-meter relay team of Moon, Ian Snyder, Nickoloff and Salvevold finished in second at 46.53 seconds.
Placing in the shot put were Avance in fourth at 41-4 and Peyton Perkins in fifth at 41-2.
Nickoloff added a fifth in the discus with a mark of 1249.
Moose took fifth in the 100 with a personal best time of 11.67 seconds.
Destiny Thompson led Culbertson's girls by earning third place in the javelin with a best of 111-5.
Kayli Olson qualified for state by placing fourth in the 1600 with a time of 6:13.31.
Megan Granbois cleared 4-8 for fourth place in the high jump.
Divisional champions in the boys' division included Froid/Lake's Mason Dethman in the 200, Lustre's Jasiah Hambira in the 400, high jump and triple jump, Bainville's Reese Harmon in the 800, Richey/Lambert's Matthew Ellerton in the 1600 and 3200, Plentywood's Hudson Chandler in the 110-meter hurdles, Lustre's Johnslee Pierre in the 300-meter hurdles, Froid/Lake's 400-meter relay team, Circle's 1600-meter relay team, Fairview's Hunter Sharbono in the shot put and discus, Saco's Blaine Downing in the pole vault and Savage's Zane Pilgeram in the long jump.
Divisional champions in the girls' division included Savage's Brooke Reuter in the 100, 200, 400 and triple jump, Whitewater's Shelbi LaBrie in the 800 and 1600, Plentywood's Annie Kaul in the 3200, 300-meter hurdles, pole vault and 100-meter hurdles, Fairview's 400-meter relay team, Scobey's 1600-meter relay team, Plentywood's Emma Brensdal in the shot put and discus, Whitewater's Paige Wasson in the javelin, Plentywood's Audrey Sampsen in the high jump and Bainville's Hailey Berwick in the long jump.
The Class C state track meet is Friday, May 26, and Saturday, May 27, in Laurel.