Posted on
Cowboys Earn Second Place At District Track Meet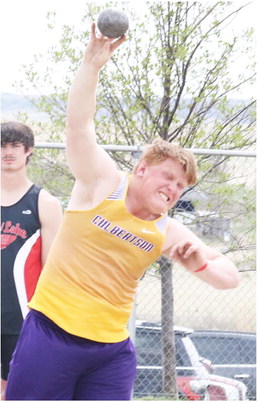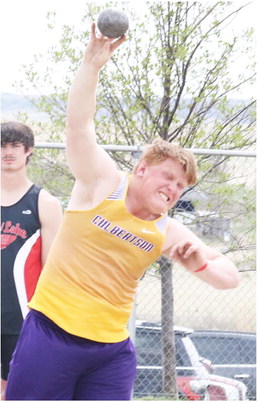 The Culbertson Cowboys accounted for 94 points to bring home the second-place trophy from the District 2C track meet held In Lambert on Tuesday, May 9.
Kobe Nickoloff, a senior, enjoyed an excellent day for the Cowboys. He scored 22 points at the meet, which was fourth most for a boy.
Plentywood topped the boys' standings with 114 points.
The top three girls' teams were Plentywood with 137.33 points, Savage with 116 and Fairview with 72 points. The Cowgirls finished with 32.33 points.
Winners of the Phil Robinson Memorial Awards for scoring the most points were Plentywood's Hudson Chandler for boys and Plentywood's Annie Kaul for girls.
Culbertson's boys earning firsts were Bridger Salvevold with a time of 11.54 seconds in the 100-meter dash, Nickoloff with a mark of 152-10 in the javelin and Justice Bengochea with an effort of 45-8 in the shot put.
Earning second were Reese Moon with a mark of 18-6 in the long jump, Bengochea in the discus at 140-3 and Salvevold with a time of 23.94 seconds in the 200. The 400-meter relay team featuring Moon, Ian Snyder, Nickoloff and Salvevold finished second at 45.80 seconds.
Colin Avance took third in the discus at 131-3 and fourth in the shot put at 41-11. Nickoloff earned third in the long jump at 18-5 and fourth in the discus at 130-4. Moon added a third in the triple jump at 38-6 and finished fourth in the 100 at 11.97 seconds.
Also earning trips to the divisional meet were Hugh Donaldson with a best of 41-4 for sixth place in the shot put and Payton Perkins with a mark of 41-0 for seventh place in the shot put.
The 1600-meter relay team of Carson Solem, Mathew Wadsworth, Nyreece Halvorson and Salvevold finished sixth at 4:02.48.
Destiny Thompson led Culbertson's girls by earning first place in the javelin with a best of 105-5.
Kayli Olson finished second in the 1600 at 6:11.70 and third in the 800 at 2:43.77.
Megan Granbois placed fourth in the high jump by clearing 4-6 and fifth in the javelin with a mark of 92-5.
The 400-meter relay team of Olson, Ivy Colvin, Granbois and Thompson placed fourth with a time of 56.81 seconds.
Serenity Wilbanks earned eighth in the 800 with a time of 3:54.28.