Posted on
Wolves Earn Second Place At Home Meet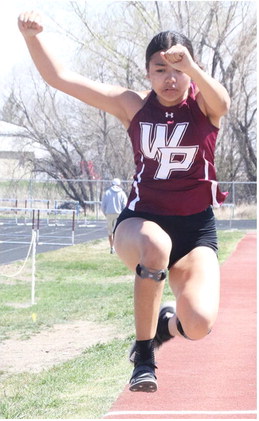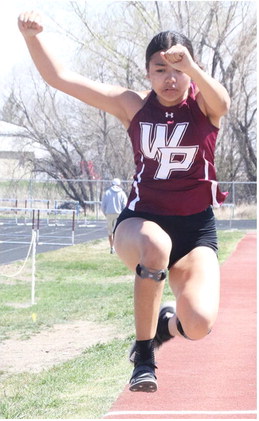 Wolf Point earned second place in the boys' standings and sixth in the girls' standings during the Gene Nelson Memorial track meet held in Wolf Point on Friday, May 5.
The Wolves finished with 97 points in the boys' team standings. Scobey topped the standings with 97 points.
The Lady Wolves accounted for 38.5 points. Scobey earned first with 136.5 points.
One highlight of the meet for the Wolves was the 400-meter relay team featuring Kraven Silk, Sam Boysun, Maddox Reum and Juliun Benson finishing first with a time of 47.01 seconds.
The 1600-meter relay team of Silk, Reum, Benson and Peyton Summers ran to a first-place showing at 3:50.16.
Charles Page earned first place in the shot put at 41-6 and fifth in the discus at 98-1.
Peyton Summers continued his outstanding season by taking first in the 800 at 2:09.71.
Sprints were a strong point for the Wolves. Wolf Point earned the top four spots in the 100 with Benson in first (11.55), Reum in second (11.95), Vaun Jensen in third (11.98) and Silk in fourth (11.99). Reum finished first in the 200 at 24.79 while Jensen placed second at 25.08, Michael Bell was fifth at 25.86 and Boysun took sixth at 26.24.
Tavian Bell ran the 300-meter hurdles in 54.77 seconds for fourth place.
Jensen earned sixth in the long jump at 18-1 and sixth in the javelin at 36-4.
Wolf Point's girls' 400-meter relay team featuring Kylie Rodenberg, Kashlyn Speak Thunder, Teagan Williams and Katelyn MacDonald finished in second place at 56.99 seconds.
MacDonald took second in the javelin at 107-4 and fourth in the shot put at 30-6. She cleared 7-0 in the pole vault with sixth place.
Rodenberg finished third in the 100-meter hurdles with a time of 18.43 seconds. The junior took fifth in the long
(Photo by Bill Vander Weele)
jump with a mark of 14-7.
Speak Thunder earned third in the long jump at 15-0 and fourth in the triple jump at 30-4.
The Wolves will compete at the District 2B track meet in Glasgow Saturday, May 13.
Speak Thunder
Kashlyn Speak Thunder hits a good mark during action in Wolf Point.