Posted on
Indians Score At Sidney Track Meet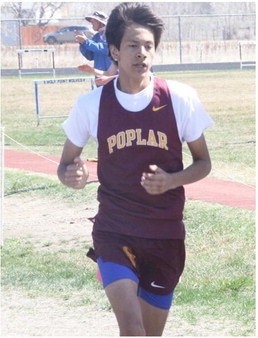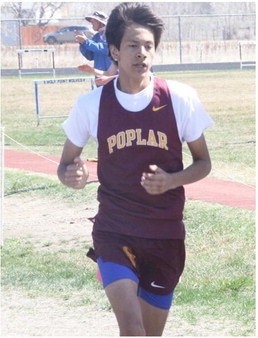 The Poplar Indians capped their regular season by competing at the Sidney Invitational on Saturday, May 6.
Poplar accounted for 20 points in the girls' division for eighth place as the Indians performed well in distance runs.
Reinita Irizarry finished third in the 1600-meter run at 6:19.02 and fourth in the 3200 at 12:52.09.
Blake Follette placed fourth in the 1600 with a time of 6:21.42 and ran the 800 in 2:46.94 for fifth place.
Jazmyn Carrywater earned fifth in the 3200 with a time of 12:57.33. Mattie Falls Down took sixth in the 1600 at 6:35.95.
Kessee Erickson took sixth in the discus with a mark of 94-5.
Poplar's boys scored 11 points for 10th place at the meet.
Adrien Matuck highlighted action by earning first in the long jump with a mark of 198.
Miles Boxer finished sixth in the 1600 with a time of 5:28.18.
Bearcub
Poplar's Wilder Bearcub runs in the 3200 during the week for the Indians.
(Photo by Bill Vander Weele)