Posted on
Young, Indians Earn Golf Honors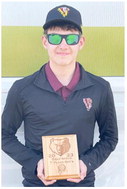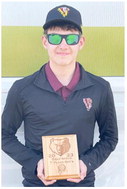 The Poplar Indians have enjoyed plenty of success during recent golf action.
Poplar's Landon Young shot an 87 to earn medalist honors at the Box Elder Invitational. The Indians took first place with a team score of 283.
At the Malta Invitational, Young scored a 90 for seventh place.
Poplar's Quinn Sutherland placed 13th at 102 and Preston Ogle took 14th at 103.
Lukas Young shot an 104 to tie for 15th place.
At the Glasgow Invitational, Landon Young finished with a 90 to tie for fifth place.
Sutherland tied for 16th place at 100. Ogle was 18th at 101. Lukas Young placed 20th at 110.
The Indians will host a tournament in Wolf Point on Thursday, May 4.
The divisional tournament is Tuesday, May 9, in Shelby.