Posted on
Wolves Perform Well During Scobey Invitational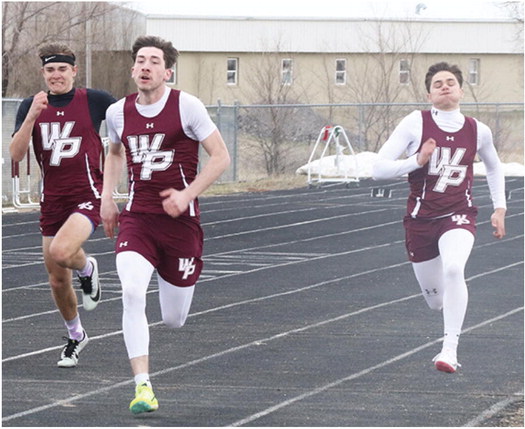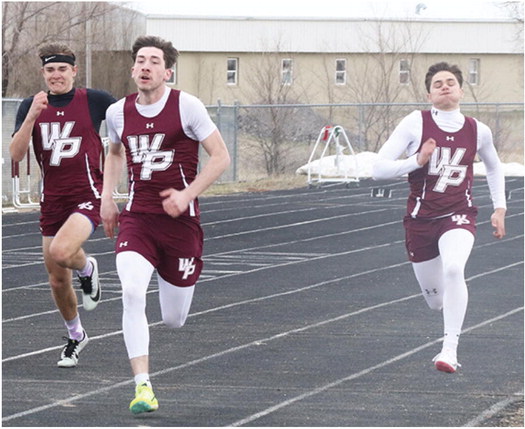 Wolf Point's track team relied on a couple of veterans and also a new face to the sport for strong showings at the Scobey Invitational held in Wolf Point on Saturday, April 15.
Wolf Point's boys accounted for 83 points for third place and Wolf Point's girls scored 36 points for fifth place at the meet.
Senior Juliun Benson, who hasn't competed in track since junior high, was the surprise of the day for the Wolves. Benson finished first in the 100-meter dash in 11.83 seconds and first in the 400 in 55.06 seconds. Benson placed second in the 200 at 24.81 seconds.
More predictable was Peyton Summers' dominance in the distance races. The junior cruised to victories in the 1600 (4:46.93) and 3200 (9:57.36).
Katelyn MacDonald, a senior, got another strong girls' track campaign underway with high places in three events. MacDonald cleared 6-0 for first place in the pole vault, had a best of 118-2 for second place in the javelin and took second in the shot put at 32-8. Her distance in the javelin qualified her for the state meet.
In the boys' division, Charles Page placed second in the shot put at 40-07.
Kraven Silk finished third in the 200 at 24.89 seconds. Maddox Reum took fifth in the 100 (12.40) and sixth in the 200 (25.52).
Wolf Point's boys' 400-meter relay team featuring Benson, Preston Swenson, Reum and Sam Boysun finished second with a time of 46.39 seconds.
Tavian Bell finished sixth in the 800 in 2:24.30 and eighth in the 400 in 1:03.84.
Boysun was sixth in the 100, seventh in the 200 and ninth in the high jump. Swenson finished seventh and Silk was ninth in the 100. Vaun Jensen took 10th in the long jump.
Kylie Rodenberg enjoyed a solid effort for Wolf Point's girls. The junior earned fourth in the long jump (143) and fifth in the 100-meter hurdles (18.23 seconds). She was eighth in the 100 and 10th in the triple jump.
Marley Moran took eighth in the shot pout and 11th in the discus.
Topping the boys' standings were Lustre Christian with 108 points and Plentywood with 95.5 points.
Leading the girls' standings were Scobey with 146, Plentywood with 125 and Whitewater with 79 points.
The Wolves will compete at the Sidney Invitational on Saturday, April 22.