Posted on
Lustre Wins Top Honors At Meet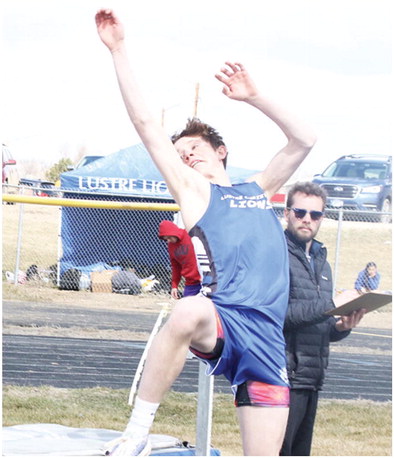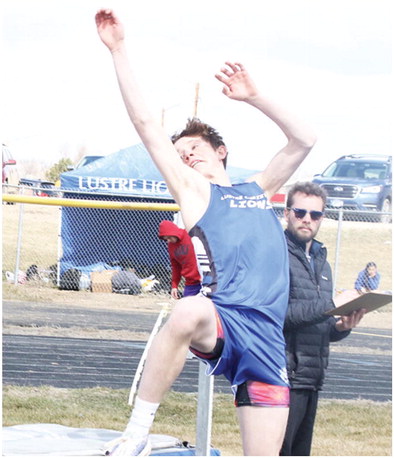 The Lustre Christian Lions jumped and ran their way to first-place honors at the Scobey Invitational held in Wolf Point on Saturday, April 15.
The Lions topped the boys' field with 108 points. Plentywood placed second with 95.5 points and Wolf Point took third with 83 points.
Jasiah Hambira accounted for another standout performance for the Lions. The senior earned first in the 200-meter dash with a time of 23.91 seconds, first in the high jump by clearing 6-2 and first in the triple jump with a mark of 44-1.
Lustre received another first-place effort from Johnslee Pierre with a time of 44.32 seconds in the 300-meter hurdles.
The 400-meter relay team featuring Braden Ewing, Pierre, Terran Joseph and Hambira completed the race in 46.32 seconds for firstplace honors. Long jump was a strong event for the Lions as Pierre took second at 19-9, Ewing placed third at 19-4, Joseph earned fifth at 17-9, Elijah Lenihan placed sixth at 17-4 and Diek Olfert was seventh at 17-0.
Ewing earned third place in the triple jump with a mark of 39-8. Pierre took seventh with a best of 36-3.
Olfert cleared 5-4 for fourth place and Lenihan cleared 5-4 for fifth place in the high jump.
The Lions picked up points in the 100 as Joseph finished second at 12.26, Hambira took third at 12.26 and Ewing placed fourth at 12.35 seconds. Joseph finished fourth in the 200 with a time of 25.29 seconds.
Lenihan finished fifth in the 1600 at 5:42.78 and Olfert was eighth at 5:48.41. Placing in the 800 were Cayden Klatt in seventh at 2:25.26 and Olfert in ninth at 2:26.55.
Ife Aniobi finished ninth in the 400 at 1:05.78. Klatt took 10th in the 1600 at 5:50.79.
Klatt earned eighth in the discus at 89-4. Mason Hilkemann was ninth in the javelin at 100-10. Ewing took 10th in the 200 at 26.04 seconds.
Highlights for Lustre's girls included freshman Angie Fontus finishing ninth in the 800 with a time of 3:38.56. Fontus took 11th and Mana Okamoto was 12th in the 300-meter hurdles.
Fontus took 12th in the triple jump and 16th in the long jump. Okamoto was 17th in the long jump.