Posted on
Wolf Point's Tennis Team Features Good Turnout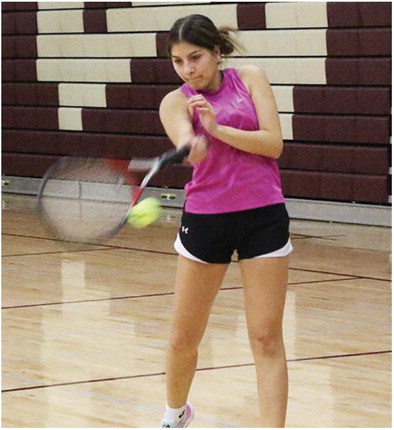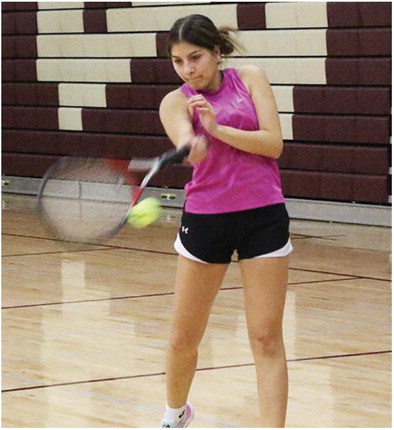 Wolf Point's girls' tennis program has an excellent turnout of 16 players this season.
Coach Dan Horsmon said practices have been going very well despite being forced inside due to cold and snowy weather conditions.
"It's really sad we have to be inside though," Horsmon said. "There's a lot of potential."
The Wolves feature six returning letter winners including Mahala Moran, Kaylee Johnson, Kaleah Miller- Toves, Jayson Williams, Victoria Wozniak and Mercedes Sutton. The doubles' team of Johnson and Miller-Toves earned second place at last year's divisional tournament to qualify for the state meet. They went on to place eighth at the state level.
Moran also qualified for the state meet in doubles' play in 2022.
"All my returners from last year should have a good season, and I think some of our new players will become assets to the team quickly," Horsmon said.
The new players include J'Elle Garfield, Azalei Ackerman, Nevaeh Graham, Joli Beston, Quiarrah Rios, Riley Benton, Jayla Big Talk, Tanna Guldberg, Tomeya Brugh and Jeina Reum.
"We have many new players from eighth grade to senior that have the potential to be great," Horsmon said.
The coach said his goal is for the Wolves to become divisional champs and qualify as many players as possible for the state meet.
The Wolves are scheduled to open their season at the Forsyth Invitational in Miles City on Saturday, April 1.
Horsmon said he is pleased with the growth of the program. "I'm very encouraged by our numbers. I'm hoping sometime soon we can get four tennis courts so we can host divisionals and other tournaments."