Posted on
Garrett Enjoys Experiences In Wolf Point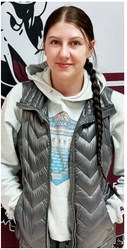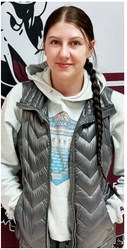 Wolf Point High School senior Trinniti Garrett has been involved in the sports of volleyball and basketball during her time at the school.
She played volleyball for the Wolves for four years.
"I kind of liked being competitive and being active," Garrett said. "I liked playing with friends."
As a senior, she served as manager for Wolf Point's boys' basketball team. She said she enjoyed the road trips and being around Coach Cole Hanks.
"He's really funny and always has something to tell a joke about," Garrett said.
In the classroom, her favorite class is English taught by Douglas Evans.
"It's really challenging and I like having the challenge especially to get me ready for college," Garrett said.
Her favorite teacher is Dan Horsmon for the college and career class.
"He's really respectful and cares about students' lives," Garrett said of Horsmon. "The class helps us get ready to apply for college and scholarships."
As far as hobbies, Garrett likes weight lifting and spending time in the gym.
During the summer, she works at the hospital three days a week as a certified nursing assistant.
She will attend college at Montana State University. Her plan is for a career as an ultrasound technician.
"I like the baby part of it, just being able to show people the baby's development," she said.
She has attended school in Wolf Point since the third grade. She is grateful for the education that she has received.
"A lot of the teachers are helpful and supportive," Garrett said. "They help us keep our grades up and with homework if we need it."