Posted on
Wolves Compete At Class B State Tournament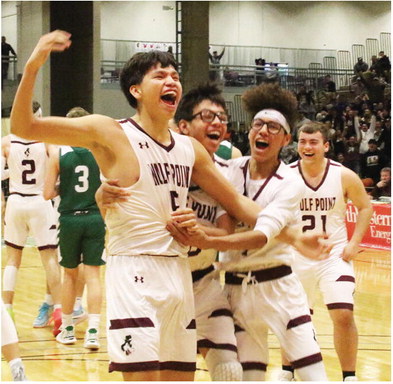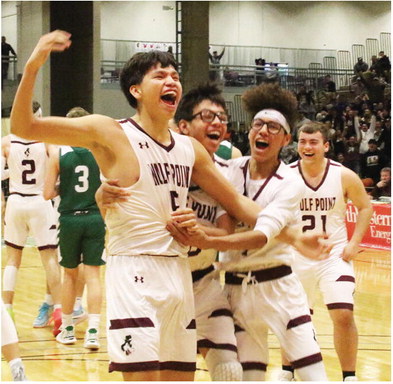 Much of the attention was directed toward Columbus' 6-9 standout center Hayden Steffenson in the first-round state tournament game against the Wolves, but it was Wolf Point's post who made the biggest shot in the 6562 victory in Great Falls on Thursday, March 9.
After Columbus' Mason Meier hit a three-pointer to produce a 62-62 deadlock, the Wolves called time-out with 9.6 seconds left.
With the Cougars' defense concentrating on stopping a drive by Juliun Benson, the senior passed the ball to 6-4 Cade Stafne. The junior came through with a clutch threepoint shot at the buzzer.
Stafne said he was ready for the game-winning opportunity. "Juliun told me their big guy would step up to stop him and he will look for me. It felt good coming out of my hand."
Wolf Point Coach Cole Hanks noted, "I told them we had to get to the rim and look for the open person. Cade's been consistent with his opportunities at threes."
Benson led the Wolves with 27 points. Adding 10 points each were Kelby Bauer and Kraven Silk. Also scoring were Stafne with eight, Gaige Bushman with six, Peyton Summers with two and Lennoxx Lilley with two points.
Benson grabbed 11 rebounds. Bauer finished with five assists and four steals.
Columbus' Steffenson accounted for 22 points. Meier added 17 points.
Michael Curl, a 6-5 junior, had 10 rebounds and five blocked shots.
The Wolves trailed 22-20 at the half but gained a 36-31 lead midway into the third quarter. A three-pointer by Bauer and a layup by Silk after a steal by Bauer put the margin at 41-38. The Cougars ended the quarter on a 15-footer by Curl to cut the gap to 41-40.
Wolf Point ran off the first seven points of the fourth period on four points by Benson, a free throw by Bushman and a drive by Bauer. A threepoint play by Benson and five points by Bushman produced a 56-49 advantage for the Wolves with 3:53 remaining.
Columbus fought back with 10 of the game's next 12 points. A three-point play by Curl put Columbus up 59-58 with 1:11 left.
A drive by Benson put the Wolves back ahead with 1:02 remaining. After the Cougars missed a shot, Silk connected on two free throw attempts to give Wolf Point a 62-59 advantage with 27 seconds left.