Posted on
Red Lodge Ends Wolves' Season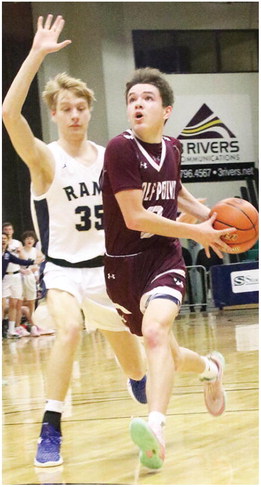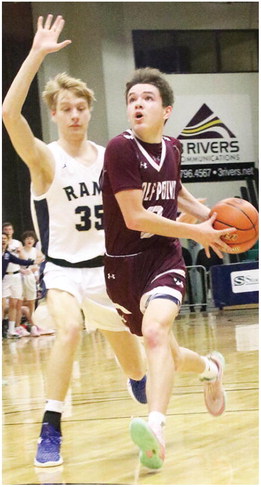 Wolf Point's boys had a difficult time getting going in their Saturday morning game against Red Lodge at the Class B state tournament and lost by a 67-57 final in loser- out action on March 11.
The Wolves fell behind by a 14-2 margin. A drive by Peyton Summers cut the margin to 14-4 to end the opening period.
Kraven Silk sparked a comeback for the Wolves to open the second quarter. The senior, who finished with 20 points, accounted for eight straight points during the first 1:30 of the period to pull the Wolves to 14-12.
After the Rams hit three free throws, Juliun Benson connected on a 12-footer and Jack Kolstad accounted for a steal and layup to close the gap to 17-16.
Red Lodge's Thomas Buchanan responded with a three-pointer and a pair of free throws. Drives by Gaige Bushman and Benson along with a free throw by Michael Bell got the Wolves back to 23-21, but Red Lodge held on for a 28-25 lead at the end of the half.
The Rams struck for seven of the first eight points of the third quarter. The Wolves battled back on a free throw by Silk, a 12-footer by Summers and a basket by Cade Stafne off an assist from Kelby Bauer.
After Red Lodge increased its lead to 10 points, Wolf Point kept battling on a basket by Silk off a steal by Bauer. The Rams, however, led 47-35 at the end of the quarter.
The Rams held a 53-38 advantage until a free throw by Silk, a tip-in by Benson and a fast-break drive by Silk give Wolf Point hope at 53-45 with 4:12 remaining. A basket by Bauer off a pass from Kolstad pulled the Wolves to 54-45 with 3:51 left.
Four straight points by Benson and a basket off a rebound by Bauer after a steal by Kolstad got the Wolves as close as 56-51 with 2:40 remaining. Red Lodge then scored six of the next seven points.
Reaching double figures for the Wolves were Silk with 20 and Benson with 10 points.
Also scoring were Bauer with seven, Kolstad with five, Bushman with five, Summers with four, Lennoxx Lilley with two, Bell with two and Stafne with two.
Bauer finished with eight rebounds and four assists.
Top scorers for Red Lodge were Buchanan with 23, Walker Boos with 11 and Calvin Garmann with 11 points.
Buchanan grabbed 15 rebounds. Boos had six assists.
Missoula Loyola downed Malta, 65-55, in the state championship game.
Bigfork downed Red Lodge, 45-36, in the third-place contest.