Posted on
Lustre Stops Froid/Lake In Semi-final Round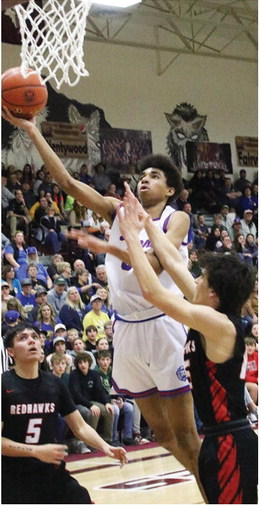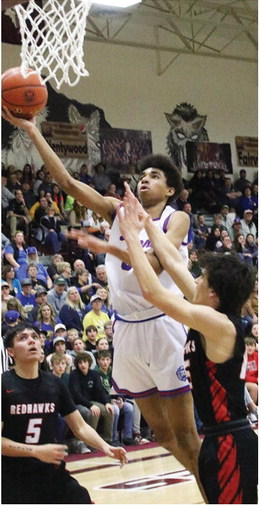 After a close first half, Lustre's boys' basketball squad pulled away in the third quarter to beat Froid/Lake, 44-31, in the semi-final round of the Eastern C divisional tournament on Friday, March 3.
Ahead by a 17-13 half-time margin, the Lions' man-toman defense held Froid/Lake scoreless for more than five minutes to open the third quarter. A basket by Byron Ewing, a free throw by Jasiah Hambira and two free tosses by Elijah Lenihan put Lustre up 22-13.
The Red Hawks ended Lustre's run on a pair of free throws by Mason Dethman with 2:45 left in the quarter, but Lenihan connected for a pair of three-pointers to put the score at 28-15 to close the quarter.
Froid/Lake didn't go down easy as Max Engelke opened the fourth period with a three-point point. Five straight points by Dethman cut the margin to 28-23 with 3:58 remaining.
After Lenihan hit another three-pointer, Froid/Lake's Nate Stentoft drove in for a hoop at the 3:06 mark. Lenihan, who finished with 19 points, responded with another long shot. A fast-break basket by Hambira off passes from Lehihan and Cayden Klatt put the score at 36-25 with 2:17 left.
Dethman fired in a three-pointer with 1:09 left, but the Lions put the contest away with five straight free throws.
Klatt and Johnslee Pierre finished with seven points each for Lustre. Also scoring were Ewing with five, Hambira with five and Clay Reddig with one point.
Dethman led the Red Hawks with 19 points. Rounding out the scoring were Engelke with five, Stentoft with five, Caden Kelm with two and Patton Bighorn with two points.
Dethman accounted for nine rebounds and four steals.
The Lions received a spark off the bench from Pierre, a 6-5 freshman, during the first quarter and held a 9-8 lead at the end of the period.
With the score deadlocked at 13-13, the Lions tallied the last four points of the half on drives by Lenihan and Klatt.