Posted on
Froid/Lake Girls Play Strong Against Plentywood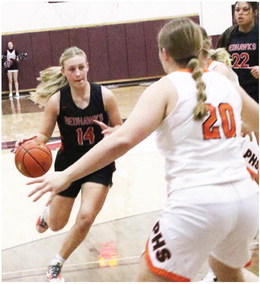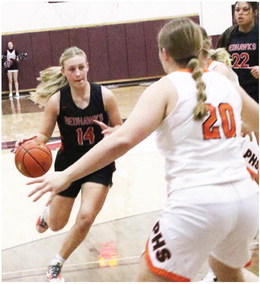 Froid/Lake's girls' basketball team accounted for a solid defensive effort but lost to Plentywood, 41-26, in the first round of the Eastern C divisional tournament on Wednesday, March 1.
Plentywood gained a 21-10 half-time margin, but the Red Hawks tallied the first five points of the third quarter on a hoop by Dasani Nesbit and a three-pointer by Bailee Davidson.
The quarter ended with Davidson hitting a three-pointer to pull the Red Hawks to 2618.
A basket by Nesbit on an inbounds play kept Froid/ Lake close at 31-22 with 4:09 remaining, but Plentywood then struck for eight straight points including two three-pointers by Mallory Tommerup to pull away.
Top scorers for the Red Hawks were Nesbit with 16 and Davidson with eight points. Mara Salvevold had two points.
Nesbit finished with eight rebounds.
Tommerup led Plentywood with 22 points including hitting five three-pointers. Audrey Sampson added eight points.
Emma Brensdal grabbed seven rebounds.