Posted on
Cowgirls Knock Off Circle, 47-42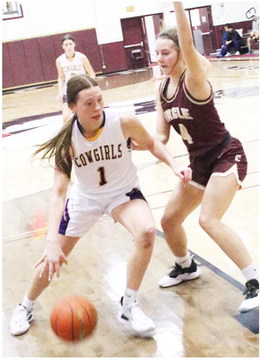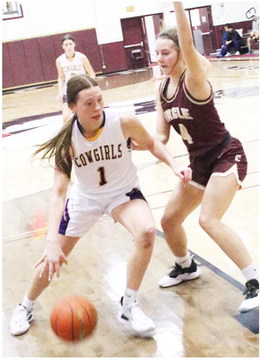 Senior Alicyn Ator hasn't been a big scorer during her basketball career in Culbertson, but her two free throws were definitely huge ones in the Cowgirls' 47-42 victory over Circle at the Eastern C divisional tournament in Wolf Point on Friday, March 3.
With the Cowgirls holding on to a 45-42 lead during a Circle comeback, Ator, a defensive standout for the Cowgirls, calmly hit two free throws with 21 seconds left to give Culbertson a comfortable five-point advantage.
Culbertson entered the third quarter with only a 14-11 lead, but a 16-footer and pullup jumper by Makena Hauge produced a 20-13 spread. A three-point point by Megan Granbois suddenly put the Cowgirls ahead by a 23-13 score.
Three-pointers by Destiny Thompson and Hauge late in the quarter resulted in a 31-21 score. Another three-pointer by Thompson helped Culbertson hold a 36-26 lead at the end of the third quarter.
The scoring of Alexis Moline and Madeline Moline led the Wildcats to 36-32 midway into the fourth quarter.
Thompson responded with the next five points, including another three-pointer, for a 41-32 advantage with 3:32 left. Perla Burciaga scored inside for a 43-35 lead with only 2:29 left. Two free tosses by Burciaga put the score at 4536.
A three-point play and 16-footer by Grace Gackle along a three-pointer by A. Moline led Circle's comeback charge that came as close as three points.
Top scorers for Culbertson were Thompson with 16, Hauge with 10 and Burciaga with nine points. Also scoring were Granbois with six, Alicyn Ator with four and Ayden Ator with two points.
Granbois and Hauge each finished with seven rebounds.
Circle's top scorers were A. Moline with 11, M. Moline with nine and Gackle with eight points.
Gackle grabbed nine rebounds to lead the Wildcats.