Posted on
Poplar Posts Tourney Win Over Conrad Squad, 68-63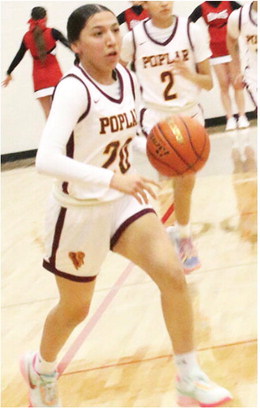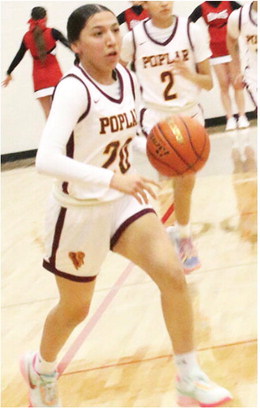 Poplar's girls' basketball team gained control in the fourth quarter to down Conrad, 68-63, in loser-out action at the divisional tournament in Glasgow on Saturday, Feb. 25.
The game was deadlocked at 51-51 until Kessee Erickson came up big with two straight baskets for a 55-51 lead with 3:31 left. Conrad was able to battle back to 57-56 on a basket and three-pointer.
The Indians responded with a baseline shot by Cammie Martell and a drive by EmmaRae Martell. Conrad stayed close at 61-58 on a drive by M. Bender with 1:33 left, but Morgan Nordwick hit from the baseline with 1:02 remaining.
C. Martell, a freshman guard, then accounted for a steal and layup to give Poplar a 65-58 lead.
Free throws down the stretch by M. Nordwick put the contest away for the Indians.
Conrad tallied the last four points of the first quarter to jump out to a 16-8 lead.
Poplar struck for the first 10 points of the second quarter to move ahead. M. Nordwick scored six of the points.
The Indians gained a 28-22 advantage on two free throws by Braelyn Nordwick and a three-point play by M. Nordwick. Conrad fought back for a 29-29 deadlock at the half.
The scoring of EmmaRae Martell, M. Nordwick and Rikki Belton led the Indians to a 44-38 lead during the third quarter. After Conrad tied the game at 46-46, a basket by Erickson put Poplar up, 48-46, at the end of the period.
M. Nordwick scored 23 points, C. Martell finished with 15 points and Belton had 14 points to lead the Indians.
Also scoring were Erickson with six, Falls Down with five, B. Nordwick with four and E. Martell with one point.
Top scorers for Conrad were Tala Eneboe with 20, Bender with 18 and Cierra Kulpas with 13 points.