Posted on
Lady Wolves Drop Divisional Title Contest Against Malta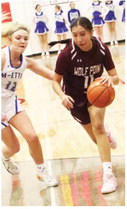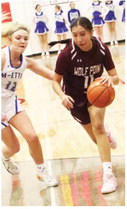 Wolf Point struggled against Malta's tough defense and lost by a 60-33 final in the Northern B divisional girls' basketball title game on Saturday, Feb. 25. Malta, which earned its fifth straight divisional championship, took a 5-1 lead early, but Wolf Point's KJ St. Marks then connected from threepoint range to put the Wolves on the right track.
A free throw by Wolf Point's freshman Kashlyn Speak Thunder pulled the Wolves even, 5-5, with 1:54 left in the opening quarter.
The M-ettes ran off the last eight points of the quarter on four points by Addy Anderson, two free throws by Allison Kunze and a drive by Madison Williamson for a 13-5 lead, Malta accounted for 10 of the first 12 points of the second quarter including four each by Kunze and Denvyr Tuss. J'Elle Garfield tried to keep the Wolves close with a three-pointer and inside shot, but Malta held a 27-12 half-time advantage.
After Malta scored the first eight points of the third quarter, Garfield put in a basket with 5:59 left in the third quarter. Baskets by Garfield and Sierra Hamilton highlighted Wolf Point's offensive attack in the third quarter. Malta led 48-22 at the end of the third quarter.
Top scorers for the Wolves were Garfield with 14 and Hamilton with 12 points.
Also scoring were St. Marks with five, Katelyn MacDonald with two and Speak Thunder with one point.
Leading Malta were Kunze with 20, Anderson with 18 and Williamson with 11 points.