Posted on
Indians Open With Victory Over Shelby, 65-36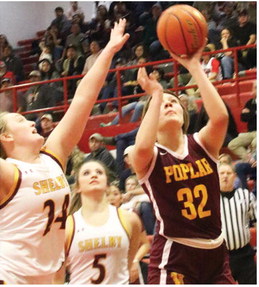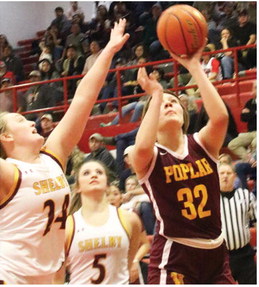 Poplar's girls' basketball team crushed Shelby, 6536, in the opening round of the Northern C divisional tournament in Glasgow on Thursday, Feb. 23.
The Indians enjoyed a great start against the District 1B tournament champion Shelby squad. Four points by Kessee Erickson and a three-pointer by Morgen Nordwick produced a quick 7-0 advantage.
After the Coyotes battled back to 7-5, Poplar's Cammie Martell connected from three-point range.
Shelby managed to close the margin to 16-13 on the scoring of Cameron Blevins, but a basket off a rebound by Brealyn Nordwick and a layup by Bailey Dupree put the Indians ahead 20-13 at the end of the quarter.
Poplar opened the second quarter with Rikki Belton hitting a three-pointer. Five straight points by Jazmyn Carrywater put the Indians ahead 28-16 with 4:29 left in the half.
The Indians got stronger as the quarter went on. Ahead 28-19, Poplar struck with baskets by Erickson and EmmaRae Martell.
Two hoops by M. Nordwick in the final minute of the half, including one basket off an assist from E. Martell, gave Poplar a comfortable 3619 half-time advantage.
A hot-shooting C. Martell led the Indians to a 19-point third quarter as the Indians increased their advantage to 55-27.
Top scorers for the Indians were C. Martell with 13, Erickson with 10 and Belton with 10 points.
Also scoring were B. Nordwick with nine, M. Nordwick with eight, Dupree with six, Carrywater with five and E. Martell with two.
Leading Shelby were Jori Clary with 11, Adele Lamb with 10 and Blevins with 10 points.